Balancing act: GMs try to win now, prepare for future
Making decisions on trades involving prospects, pennant races can be a daunting task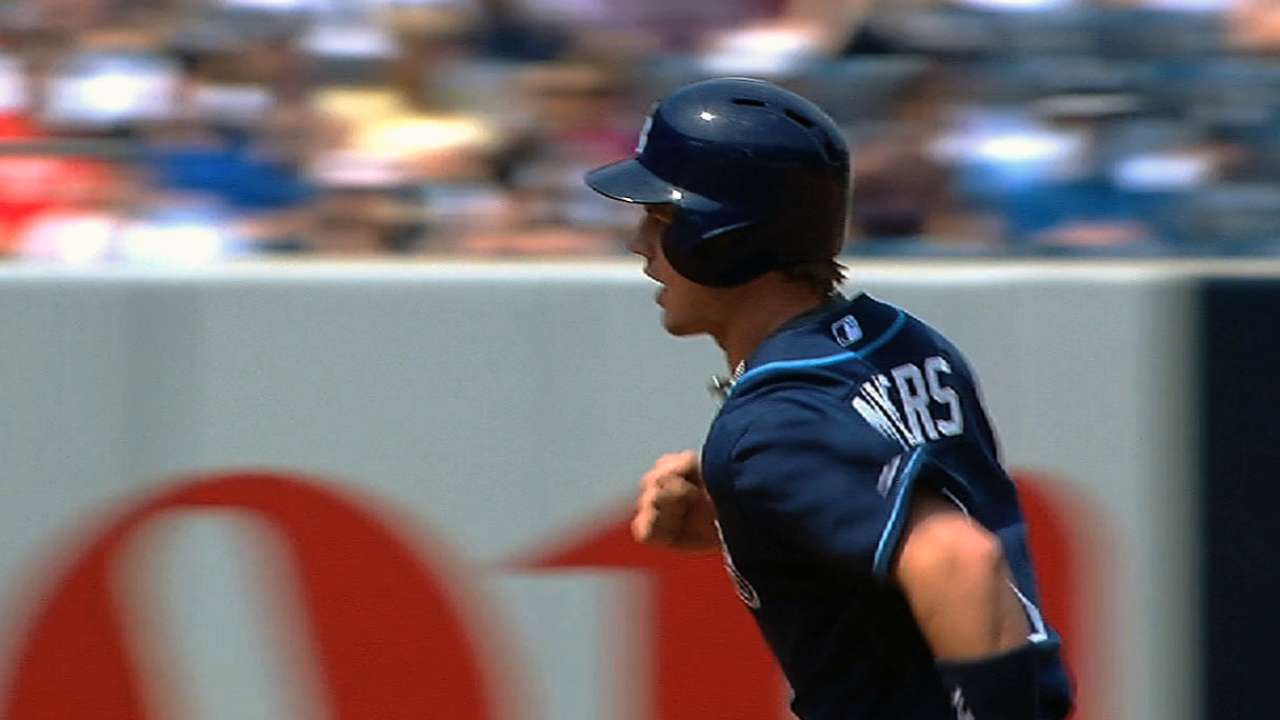 Every team wants to win as many games as possible each season. Every team is also mindful of the need to build for the future. It's a constant tug of war a general manager confronts as he goes about setting his roster.
And the pendulum always swings. A team in a rebuilding mode may lean toward making concessions in the present to bolster the future. For teams that expect to contend, mortgaging a piece of tomorrow to maximize today's chances can make sense.
That's why a team like the Royals decides to part with uberprospect Wil Myers to get James Shields from the Rays before the 2013 season. That's why the Blue Jays sent prized right-hander Noah Syndergaard and catching prospect Travis d'Arnaud to the Mets as part of a seven-player deal for defending National League Cy Young Award winner R.A. Dickey.
What increases the degree of difficulty in balancing these sometimes contradictory goals is that there are no right and wrong answers, at last until years later. And even then, the reasons for making the moves in the first place often remain valid.
Consider, for example, the Phillies. After winning the World Series in 2008, general manager Pat Gillick retired. He was replaced by Ruben Amaro Jr. Sellouts became the norm at Citizens Bank Park.
And with a nucleus including three players widely to be the best ever at their position in franchise history -- Jimmy Rollins at shortstop, Chase Utley at second base and Ryan Howard at first -- Amaro moved aggressively to make moves designed to maximize the team's chances of winning one or more additional championships.
Over the next three seasons, many of the organization's top prospects were dealt away to bring in established stars like left-hander Cliff Lee, right-handers Roy Halladay and Roy Oswalt and outfielder Hunter Pence.
"We had a chance to win," Amaro told MLB.com this week. "We had a very strong nucleus of players who were coming into their own and reaching their prime offensively. And we wanted to add to that mix as much as we possibly could to try to win championships."
Fans loudly applauded each new high-profile acquisition.
At one level, the plan worked to perfection. The Phillies won more games each season, peaking at a franchise-record 102 in 2011. But the team was beaten by the Yankees in the World Series in 2009, eliminated in the NL Championship Series by the Giants in 2010, lost to the Cardinals in the 2011 NL Division Series, finished .500 and missed the playoffs entirely in 2012. Last season, the Phils lost 89 games, finished fourth in the NL East and replaced manager Charlie Manuel with Ryne Sandberg.
Amaro understood the risks, but he felt the potential reward outweighed the potential downside.
"When you have opportunities to win, you kind of owe it to your organization and your fans to do that," Amaro said. "You try to be prudent with the people that you move. But I've always believed that if you're going to get quality, you have to give up quality to do it. ... At some point, you're robbing Peter to pay Paul. You're moving quality out of your system.
"You do deals based on time and circumstance. We had a chance to really make our team better. To make our team better, we got guys like Oswalt and Pence, who were arguably the two best players at the time we got them. And we were hoping those two players would bring us another chance to have a World Series team. It didn't work out for one reason or another, but you have to give up pretty good players to get good players.
"And I've always believed in doing equitable deals. I'm not trying to win the deal. I'm trying to do a deal that's going to be best for our organization and, over the long run, it gives me a chance to do deals later on."
It's worth noting that Amaro avoided rent-a-player trades. In every megamove, the Phillies controlled the contract for at last one year beyond the current season. Still, when success becomes elusive, the wisdom of dealing so many prospects will inevitably be re-examined.
"When you start moving that quality and that quantity out at that rate, it makes it difficult to recover if the performance of the guys at the Major League level starts to fall off. Which is did for us, either by performance or by virtue of their health," he said.
Until now, at least none of the young players Amaro traded away have come back to haunt the Phils. That could change in 2014. Jarred Cosart, who was traded to Houston in the Pence deal, flirted with a no-hitter after making his Major League debut last season and is being counted on to be a member of Houston's rotation. Jonathon Singleton, who went to the Astros in the same deal, is rated the organization's No. 2 prospect by MLB.com with the notation "Top first-base prospect in the game."
Shortstop Jonathan Villar, who was sent to Houston in the Oswalt deal, is projected to be the Astros' starting shortstop. Left-hander J.A. Happ and outfielder Anthony Gose are both with the Blue Jays now. Happ is expected to be in the rotation; Gose could be poised to break into the lineup.
Indians manager Terry Francona talked at the Winter Meetings about how Carlos Carrasco, who was sent Cleveland in the Lee deal, could play a key role for the Tribe in 2014. And Phillies fans who didn't care for the three-year extension soon to be 35-year-old catcher Carlos Ruiz commanded? d'Arnaud, who was traded to Toronto in the Halladay deal and then again to New York in the deal for Dickey, is being counted on to be the Mets' starting catcher this year.
That's just the way it goes, Amaro said.
"We knew [we gave up] good players. We didn't know whether they were going to become good Major League players, but we knew that they were very strong prospects," he said. "We've had two very subpar years for our franchise. For one reason or the other. I don't think the fan really cares about why. Some do. But until we start winning baseball games again and they start believing in our players and they start believing in themselves again, we're going to have to gain some of our fandom back.
"I actually believe that we still have some very, very talented players on our team. It's a matter of whether or not that talent is going to come forward or whether it's not. I'm optimistic about our health right now. That can also change on a dime. Hopefully we have enough young players who had an opportunity to play a little bit last year that if we have breakdowns, they can come in and fill some holes."
Paul Hagen is a reporter for MLB.com. This story was not subject to the approval of Major League Baseball or its clubs.