Hot Stove roundup: Mulder finds team for comeback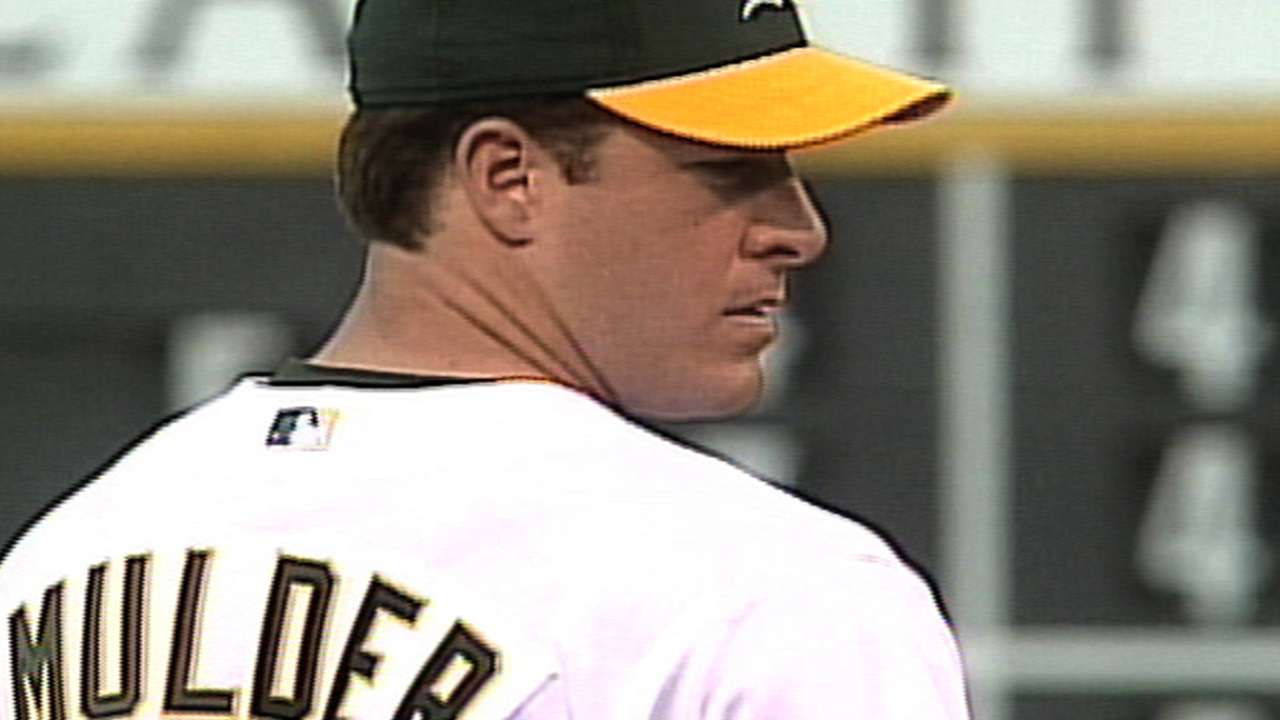 The first day of 2014 was another slow one in terms of Hot Stove activity, news and rumors.
The only news, in fact, was that the Angels agreed to terms on a Minor League contract with veteran starter Mark Mulder, who hasn't pitched in the Majors since 2008. MLB.com's Alden Gonzalez confirmed the agreement, which was first reported by ESPN.com, and notes that Mulder could make more than $6 million if he reaches all the incentives in his contract. The Angels have not confirmed the deal.
The 36-year-old will compete for a spot in the Angels' rotation this spring. He averaged 18 wins and recorded a 3.65 ERA for the A's and Cardinals from 2001-05, pitched only 12 2/3 innings in the Majors in 2007-08 and retired in '09 after two shoulder surgeries. When asked if the left-hander would go to the Minors if he doesn't make the Angels' rotation coming out of Spring Training, Mulder's agent said he would "evaluate the situation" at that point.
"Right now, though, he's looking forward to the opportunity to start in the Angels' starting rotation," added Mulder's agent, Brian Charles of Big League Management Company.
Here are a few other Hot Stove items from New Year's Day.
• Japanese right-hander Masahiro Tanaka, recently posted by the Rakuten Golden Eagles, "has to be considered the [Yankees'] top priority right now," MLB.com's Bryan Hoch writes in his latest Inbox. Hoch notes that Tanaka has been on the Yankees' radar for a while now, and that managing general partner Hal Steinbrenner would be willing to ignore the goal of a $189 million payroll to get him, but it's not as if the Yankees are Tanaka's only suitor.
• It's less realistic, however, to expect the D-backs to break the bank for Tanaka. MLB.com's Steve Gilbert writes in his latest Inbox that it would be "very tough" for Arizona to make the kind of massive financial commitment it likely will take to sign Tanaka. The D-backs will go after Tanaka, Gilbert writes, but their fans should "keep those expectations tempered."
• Don't expect the A's to go out and spend big on a designated hitter this winter, MLB.com's Jane Lee writes in her latest Inbox. Oakland doesn't employ a full-time DH and instead relies on a platoon at the position. John Jaso should get most of those plate appearances in 2014, Lee writes, and manager Bob Melvin could also utilize outfielders Yoenis Cespedes and Coco Crisp there to keep them healthy.
Adam Berry is a reporter for MLB.com. Follow him on Twitter at @adamdberry. This story was not subject to the approval of Major League Baseball or its clubs.