Daniels shares thoughts on new posting system
Daniels shares thoughts on new posting system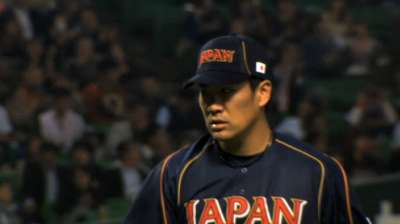 DALLAS -- Rangers general manager Jon Daniels wouldn't talk specifically about his team's interest in the latest Japanese sensation, pitcher Masahiro Tanaka, on Wednesday at the club's annual holiday luncheon.
But he did have some thoughts on Major League Baseball and Nippon Professional Baseball's new posting system that caps the fee that Japanese teams receive for their players at $20 millon. The new system was announced earlier this week.
Remember, the Rangers paid a $51.7 million posting fee two years ago for Yu Darvish. With the highest bid, the Rangers were able to negotiate exclusively a six-year, $60 millon contract with the then 25-year-old Darvish.
The new system will benefit Tanaka and other Japanese players.
"It seems equitable, right?" Daniels said. "It a lot more closely mirrors traditional free agency while still respecting the Japanese clubs' efforts and investment to develop a player and getting them a return. It gives the player more of a choice. The money is going to the player, theoretically. I'm sure at some level from the Japanese standpoint, capping it isn't a good tradeoff for them. But if you look at the whole, it kind of addresses a bunch of different things."
Tanaka said at a news conference on Tuesday that he has told his team, the Rakuten Golden Eagles, that he would like them to allow him to test his abilities in Major League Baseball next season.
The Golden Eagles voted against the new posting agreement in balloting by the 12 Japanese teams on Monday and have said they want Tanaka back next season. So there is still some mystery. Tanaka would reach international free agency after the 2015 season.
Daniels was asked Wednesday if he would have wanted the new posting system two years ago when the Rangers pursued and signed Darvish.
"No, I don't, because we had an exclusive window," Daniels said. "We knew we were in it. As long we didn't screw up the negotiation, we were going to get the player. That's what we were concerned about. That worked out pretty well for us."
The new posting system will bring new teams into the mix. Big spenders such as the New York Yankees, Chicago Cubs and Los Angeles Dodgers are expected to be in the mix for Tanaka.
The Rangers have scouted Tanaka extensively and are expected to pursue him. Daniels wouldn't go there on Wednesday.
"I don't even want to begin to speculate there specifically to him," Daniels said. "As part of the system goes, you had to pay a premium, but you got an exclusive window. What this does is take some of the unknown out of it."
Todd Wills is a contributor to MLB.com. This story was not subject to the approval of Major League Baseball or its clubs.