Rays to sell 'Players and Pooches' calendar
Rays to sell 'Players and Pooches' calendar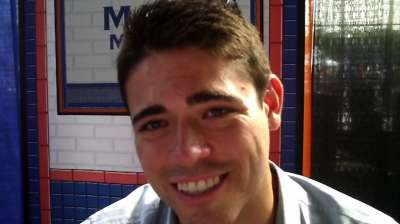 ST. PETERSBURG -- Running short on ideas for that one final stocking stuffer? You might want to turn to the Rays for the "Players and Pooches" calendar.
The full-color 12-month calendar features the following Rays and their pets: manager Joe Maddon, Evan Longoria, David Price, Wil Myers, Desmond Jennings, Jake McGee, Matt Moore, Alex Cobb, Jeremy Hellickson, Brandon Gomes and Matt Joyce.
Also featured is third-base coach Tom Foley with Ace, a 6-year-old German Shepherd and partner of St. Petersburg Police K-9 Officer Jeff Yaslowitz, who was killed in the line of duty in January 2011. Ace was a certified patrol and narcotics dog for two years, but was retired and now lives with Jeff's family.
Calendars will go on sale Wednesday at the Pet Pal Animal Shelter and Pet Pal Veterinary Clinic, the Rays Team Store at Tropicana Field and the Rays Pro Shop and Sales Office in Tampa. The calendar will sell for $15. All proceeds from the sales will go to Pet Pal Animal Shelter.
"I am overwhelmed and so grateful once again by the abundance of support from the players, the Maddons, Evan and Jaime [Edmondson], and all of the hard-working hands involved in this project," said Pet Pal executive director Scott Daly. "Another home run for the animals of Pet Pal Animal Shelter and our community."
The calendar is made possible by the generosity of the Rays and the Ted Williams Museum and Hitters Hall of Fame.
Pet Pal Animal Shelter is a no-kill, nonprofit organization committed to rescuing dogs and cats from animal shelters that may otherwise be euthanized due to time limitations or lack of socialization or training. Pet Pal is also dedicated to educating the public about the pet overpopulation crisis, the importance of spaying/neutering and responsible pet ownership.
To donate to Pet Pal Animal Shelter or for more information, visit www.petpalanimalshelter.com or call 727-328-7738.
Bill Chastain is a reporter for MLB.com. This story was not subject to the approval of Major League Baseball or its clubs.