Sarah's Take: Retaining Uribe key for Dodgers
Sarah's Take: Retaining Uribe key for Dodgers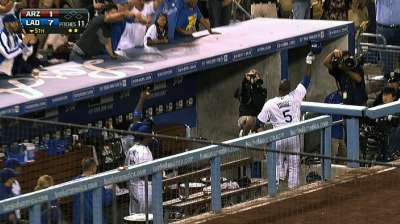 The Los Angeles Dodgers' infield will look a little different in 2014, but general manager Ned Colletti retained the most important piece of it on Saturday when Juan Uribe agreed to a two-year, $15 million contract.
Meanwhile, free-agent second baseman Mark Ellis has reached agreement with the St. Louis Cardinals. Although Ellis was a terrific second baseman for the past two years for the Dodgers, not many baseball people thought the Dodgers would re-sign the 36-year-old. This makes room for Cuban infielder Alexander Guerrero at his natural position.
Replacing Ellis' defense will be difficult, but most second basemen at age 36 have declining skills anyway. Offensively, Ellis was satisfactory, but Guerrero should be better. In 2013, in addition to having poor defense, the Dodgers had a magnitude of offensive shortcomings that need to be resolved before they can advance further in the playoffs. Hopefully, Guerrero, who has hit well in winter ball, will be a more dynamic offensive player than Ellis.
Despite having a troubled first two years in his Dodgers career, besieged by injuries, Uribe was a vital player in their successful 2013 season. No matter how frustrated he was by his performance in the first two years with the Dodgers, Uribe never lost his good humor or desire to root for his teammates. This impressed Dodgers management. He worked hard to rehabilitate from his array of injuries.
To begin the 2013 campaign, Uribe was a reserve because he was such a disappointment in 2011 and 2012. Even though everyone knew Uribe wanted to be an everyday player, especially when he was going into a contract year, he didn't sulk about his role on the Dodgers and tried to be the best reserve that he could be. He learned how to be a first baseman to back up Adrian Gonzalez. During April, when Los Angeles watched Luis Cruz -- the surprise in 2012 for the Dodgers -- blunder and cause many offensive problems because of his inability to hit, Uribe did whatever manager Don Mattingly asked without complaint.
Uribe's unselfishness set an example for the rest of the team. Throughout the rest of the season, Uribe was a well-respected veteran leader of the club. Although he was teased unmercifully by the rookie Yasiel Puig after Puig came up in early June, Uribe never lost his good humor and helped to teach the young kid about the Major Leagues.
On the field, Uribe performed fantastically, helping the Dodgers win their division by a large margin over the Arizona Diamondbacks. He was a human vacuum cleaner at third base, catching everything that came his way. Many baseball people believed that he deserved the National League Gold Glove Award for third basemen. Despite not winning it, he helped to stabilize the left side of the infield for the Dodgers. His stellar defense helped to make Hanley Ramirez a better shortstop. Although Dodgers defensive miscues allowed the opponents to score many unearned runs, Uribe's superior defense helped to prevent many runs from scoring and helped the pitching staff escape from potentially game-changing rallies.
Uribe provided offensive production at the bottom of the lineup. In 132 games, Uribe had 12 home runs and 50 RBIs, and many of them changed the complexion of the game. Although the inability of the Dodgers to hit with runners in scoring position became legendary, Uribe usually delivered. He will never be known for his patience at the plate, but he exhibited more plate discipline in 2013, resulting in a higher batting average.
Before Colletti signed Uribe for the 2011 season, he was the World Series MVP for the 2010 San Francisco Giants, and Colletti hoped his postseason experience would translate to the Dodgers when they went to the playoffs. During the NL Division Series against the Atlanta Braves, Uribe's eighth-inning home run in Game 4 propelled the Dodgers into the NL Championship Series against the Cardinals, which they ultimately lost. His calm professional demeanor during the playoffs helped his teammates to remain focused on the task at hand despite receiving more than normal media attention.
Going into this offseason, I thought the most important moves that Colletti needed to make to assure a winning 2014 season for the Dodgers were re-signing reliever Brian Wilson and Uribe. Despite a quiet Winter Meetings, Colletti achieved these objectives. It would be nice if the Dodgers could acquire two more relievers and rebuild the bench, but if Colletti can't do it, the Dodgers should be OK.
Sarah D. Morris can be reached at sarahmorris27@gmail.com. This story was not subject to the approval of Major League Baseball or its clubs.