Stewart encourages discussion on plate collisions
Stewart encourages discussion on plate collisions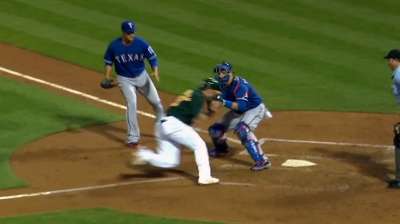 PIITSBURGH -- Catcher Chris Stewart, who was acquired from the Yankees on Dec. 1 to serve as Russell Martin's backup, considers himself a traditionalist. His initial reaction to the proposal to eliminate home plate collisions was: "I'm not a big fan of it."
For one thing, he believes it will give catchers too much leeway with blocking the plate and making baserunners go around them. Nonetheless, he does see the logic in the talks that have been taking place on the topic.
"There's too many injuries back there to catchers, too many guys getting rolled up on," Stewart said. "I don't know that it necessarily needs to be done, but I like the idea that the topic is being brought up. Conversations have happened with us, the players union, the umpires and Major League Baseball. We're all cohesively trying to come to a conclusion on what's best for the entire game, not just best for us catchers or best for the runners. The conversations are a huge step toward getting where we need to be."
Jim Lachimia is a contributor to MLB.com. This story was not subject to the approval of Major League Baseball or its clubs.