Breslow planned wedding with eye on October
Breslow planned wedding with eye on October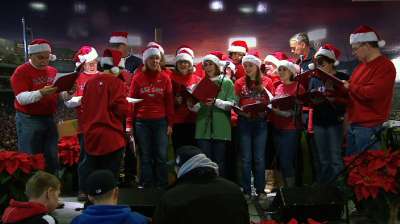 BOSTON -- About a week after Craig Breslow and the Red Sox found themselves on top of the baseball world, the left-handed reliever picked up a ring of a different, and more important, sort: a wedding ring.
Breslow -- who was at "Christmas at Fenway," the Red Sox' annual ticket-sales kickoff event, on Saturday -- said he and his now-wife, Kelly, set their plans to get married back in July 2012, around the time the D-backs traded him to the Red Sox. They chose the first week of November, with potential October baseball in mind.
You know, just in case.
"When we set the date back in 2012, people thought I was out of my mind factoring in postseason plans," Breslow said. "But, as the season unfolded, it looked like I was wiser and wiser. And ultimately, obviously, it's a pretty good thing that we did [wait]."
Boston's journey was improbable, yes. But it's better to be safe than sorry, and Breslow was anything but sorry after the whirlwind stretch that included a two-week stay in South Africa.
"Things were pretty bleak here in Boston for a while," Breslow said. "But I like to think that I recognized there was a talented core here that knew themselves, knew that they had underperformed and were committed to turning things around."
Tim Healey is a contributor to MLB.com This story was not subject to the approval of Major League Baseball or its clubs.