Hot Stove: Loney stays put, Infante finds new home
Hot Stove: Loney stays put, Infante finds new home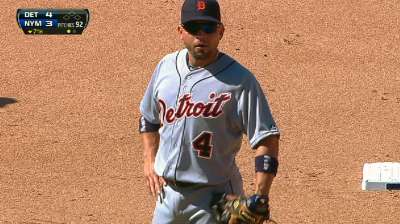 Baseball's Winter Meetings ended on Thursday, but that doesn't mean the Hot Stove came to a halt Friday.
Even with general managers, agents and media members gone from Lake Buena Vista, Fla., the action continued, and the free-agent market grew thinner. A pair of players reportedly agreed to new contracts, with first baseman James Loney set to return to the Rays on a three-year deal and second baseman Omar Infante heading to Kansas City on a four-year agreement.
In other news from around the league:
• The Yankees introduced center fielder Jacoby Ellsbury, making his seven-year, $153 million contract official.
• Former Yankee Robinson Cano saw two pieces of lineup protection added to his new club, as the Mariners held an introductory news conference for Corey Hart and Logan Morrison. Those additions do not signal the end of Seattle's offseason shopping, however.
• The Rockies finalized their two-year agreement with first baseman Justin Morneau and reportedly signed lefty reliever Boone Logan to a three-year pact.
• The Red Sox made their two-year deal with Mike Napoli official. David Ortiz, whose contract with the Red Sox expires after the 2014 season, is looking for a one-year extension.
• The Pirates announced a pair of one-year contracts, re-signing shortstop Clint Barmes and adding right-hander Edinson Volquez.
• The Tigers announced their one-year agreement with reliever Joba Chamberlain.
• Our Paul Hagen runs down the top names still available after the Winter Meetings.
• With free-agent options dwindling, the Brewers could turn to the trade market to fill their need for a first baseman, our Adam McCalvy writes.
• Might the Braves really trade stud closer Craig Kimbrel? Our Mark Bowman tackles that question in his latest Inbox.
• Outfielder Jason Kubel, coming off a rough 2012 with the D-backs and Indians, is returning to the Twins after signing a Minor League deal with an invitation to Major League Spring Training.
• The D-backs signed right-hander Daniel Hudson and catcher Henry Blanco to Minor League deals with Spring Training invites. Hudson, who hasn't pitched since early '12 due to injury, was non-tendered earlier this month.
• The Marlins continue to have interest in free-agent third baseman Juan Uribe, writes our Joe Frisaro.
Andrew Simon is a reporter for MLB.com. Follow him on Twitter @HitTheCutoff. This story was not subject to the approval of Major League Baseball or its clubs.