Big deals done, Mets look to trading Davis or Duda
Big deals done, Mets look to trading Davis or Duda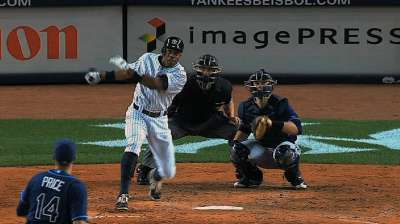 LAKE BUENA VISTA, Fla. -- With their outfield set (see: Curtis Granderson and Chris Young) and their rotation not far behind (that's you, Bartolo Colon), the Mets can now zero in on their remaining Hot Stove priority: trading either Ike Davis or Lucas Duda.
General manager Sandy Alderson has two left-handed-hitting first basemen on his roster and would ideally like to deal one of them for a young, controllable pitcher. Yet he cautioned on Wednesday that he will not make a deal just to make a deal.
"Let me emphasize one thing: We're not in the business of giving players away," Alderson said. "We don't expect to get in that business."
Though one Mets official said on Wednesday evening that he does not expect the team to complete a trade before leaving the Winter Meetings, Alderson's list of suitors is now clear. Now that Corey Hart has signed with Seattle and Logan Morrison has landed there via trade, the Mets figure to talk seriously in the coming weeks with the Brewers, Rays and Pirates -- all of whom are in need of a left-handed-hitting first baseman.
The Mets remain more likely to trade Davis than Duda, for the simple reason that Davis' 32-homer season in 2012 gives him more credibility. But the Mets, who have reportedly asked for left-hander Tyler Thornburg from the Brewers, know that completing a deal may require some flexibility.
"It's tough to get anybody's top prospect," Alderson said. "Everybody knows that."
To that end, a second source said that the Mets have had virtually no inquiries from other teams about their own young pitchers, including top prospect Noah Syndergaard.
Alderson's potential trade partners do have first-base alternatives, from free agent James Loney to rumored trade candidates Justin Smoak (Mariners) and Mitch Moreland (Rangers). But the Mets believe that they hold a valuable card in Davis, who recorded an OPS of .954 over his final 40 games before sustaining a season-ending oblique strain in August.
Anthony DiComo is a reporter for MLB.com. Follow him on Twitter @AnthonyDicomo. This story was not subject to the approval of Major League Baseball or its clubs.