Weiss says 'time is right' for Tulo to lead club
Weiss says 'time is right' for Tulo to lead club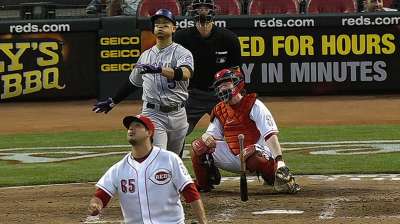 LAKE BUENA VISTA, Fla. -- Shortstop Troy Tulowitzki earned a reputation as a prodigious team leader when the Rockies went to the World Series in 2007. But that team had several veterans who had been through enough ups and downs to be the team's main compass, and Tulowitzki has spent the years since buffeted by older pros such as Todd Helton and Jason Giambi.
Now with Helton retired and Giambi heading into his second season with the Indians, Tulowitzki, 29, enters 2014 as the senior player in terms of games played in a Rockies uniform. Manager Walt Weiss believes Tulowitzki has developed the skills it takes for the difficult task -- being the physical and inspirational leader of a team full of players with different personalities and skills.
"I think the time is right for Tulowitzki," Weiss said. "I think it's somewhat of a perfect storm at this point in his career. I think he's seven years in, and he's ready for that. With Todd leaving at this time, I think, like I said, it's all lined up for Tulowitzki to take on more of a role that way. And he did that last year. I thought he took great strides in that area last year."
Part of leading for Tulowitzki, a three-time All-Star Game participant, is avoiding injury. The team went from contender to one headed for last in the National League West after he suffered a rib cage injury last season, and leg injuries had been issues in the past.
"It's tough when you get hurt, and he's had to deal with that stuff; that wears on you mentally," Weiss added. "But I thought he really stepped up last year as a leader and was a great encourager to some of our young guys, and that's going to be needed again."
Thomas Harding is a reporter for MLB.com. Follow him on Twitter @harding_at_mlb. This story was not subject to the approval of Major League Baseball or its clubs.