Committee agrees with Matheny on plate collisions
Committee agrees with Matheny on plate collisions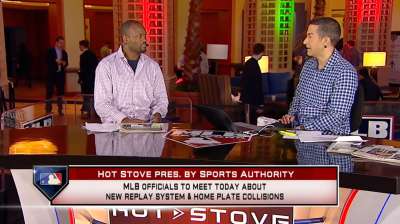 LAKE BUENA VISTA, Fla. -- Shortly after Mike Matheny stood before members of the Playing Rules Committee and articulated the effect concussions have had on his life, the Cardinals manager watched as Major League Baseball took a step forward toward banning home-plate collisions.
On Wednesday, that committee voted overwhelmingly to eliminate such collisions. The Rules Committee will now go about drafting a proposal that would lay out how such rule changes would be enforced and what precisely will be prohibited. That draft would then have to be approved at the next Owners Meetings in January and by the MLB Players Association.
Mets general manager Sandy Alderson, who chairs the Rules Committee, said he was confident all the necessary approval can be achieved before the 2014 season.
"I think Major League Baseball, the GMs, the owners, I think everybody saw an opportunity here to be proactive and not reactive and to try and move the game of baseball forward with the information that we have now," Matheny said after Wednesday's vote. "I think that was something that was on its way before my involvement outside of what had happened to me and my career.
"I salute [Giants manager] Bruce Bochy, who was very proactive in trying to get this message out. He had a lot of opposition, as all of us did who took a stance on this. I think people just are realizing that the way sports in general are going, that this is something that is a risk to our players. And then, once again, how big of a role does it play as a positive for our game? And can we move forward with the knowledge that we have now [on concussions] in a positive way to help protect our guys?"
Eliminating home-plate collisions has been a personal crusade for Matheny, who has been especially public about the topic over the last year. Once an opponent to such an amendment, Matheny had a change of opinion after enduring life-altering effects from the more than two dozen collisions he estimates he had as a catcher.
Along with Bochy, Matheny has watched support for his position swell recently among baseball managers and executives. It was a topic of prominent discussion last month at the General Managers Meetings.
"It was pretty impressive sitting in a group [Wednesday] with a bunch of managers, as we had a big roundtable discussion with a whole group of former catchers and Major League Baseball personnel and how everybody was on the same page," Matheny said. "Then it was just a matter of trying to talk to the Rules Committee so that it can be implemented. There are still some challenges ahead. There are channels to run through that still need to be done, too. I think there are still some hurdles potentially there, but it seems like the group, collectively, began to realize that there is an opportunity to do something here for the good of the game."
Matheny has told the Rules Committee that he would be happy to discuss his suggestions for enforcement if they would like the feedback. For the Cardinals, this movement is certainly welcome news given the value of their current catcher, Yadier Molina.
Jenifer Langosch is a reporter for MLB.com. Read her blog, By Gosh, It's Langosch, and follow her on Twitter @LangoschMLB. This story was not subject to the approval of Major League Baseball or its clubs.