Porter expects slugging Carter to cut down on K's
Porter expects slugging Carter to cut down on K's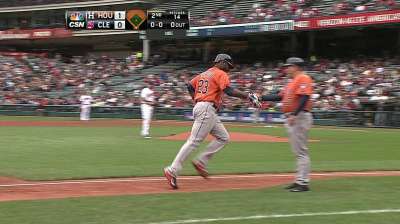 LAKE BUENA VISTA, Fla. -- Astros manager Bo Porter is confident slugger Chris Carter, who struck out a franchise-record 212 times in 2013, will be able to reduce his whiff rate next year. Porter said another year of experience should help Carter.
Carter played in a career-high 148 games last year, hitting 29 homers and driving in 82. It was the most games he had played in a season after appearing in 67 with Oakland in 2012.
"You look at his Major League career, even the at‑bats which he received, they were platoon at‑bats and facing lefties," Porter said. "Well, what happens in that scenario is you take away the aspect that he's now facing righties and the mental strain that comes with the days in which he goes 0‑for-4 with three strikeouts against a righty. Then the next day he faces a lefty in which you're saying to yourself, 'OK, this is the guy he's really going to do good against.'
"But the mental strain that that has on you basically affects a guy that you probably should hit well. I think that mental maturity is going to help Chris Carter, the fact that he's coming into his second year where he's going to play every day. "
The Astros traded for Carter in February because they needed to add some power, even if it came at the expense of strikeouts. No one imagined Carter would strike out quite that much, and his future as a viable Major League player could depend on making more contact.
"This was not a one-year tryout for Chris Carter," Porter said. "We feel like if we really hit it on this guy, we have a guy that's going to hit 30 home runs and drive in 100 every year. And taking him out of the lineup last year would not bode well for what it is we believe the steps he's going to take next year.
"So giving him that entire year, I guess to answer your question, I believe he's going to be a stronger player from a mental standpoint and that is going to cut down on strikeouts."