Agent Boras says Cubs taking 'small market approach'
Agent Boras says Cubs taking 'small market approach'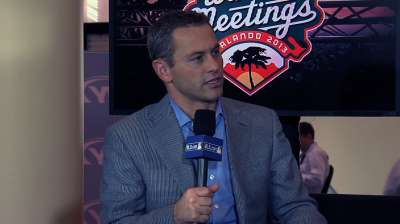 LAKE BUENA VISTA, Fla. -- If Cubs fans are upset at how long it's taking the team to complete its rebuilding process, they have a friend in agent Scott Boras.
"The idea is it's going to take some time for them to reach the resolve to say that they're going to compete on all fronts to win a division or build a franchise," Boras told reporters at the baseball Winter Meetings on Wednesday when asked about the Cubs.
"Obviously, it's internal and I know the fans and baseball [operations] people have a plan afoot," Boras said. "It's just that normally with major market teams, you see a little bit different approach than you see here [with the Cubs]. This is more of a small market approach, if you will."
The Cubs' plan since Theo Epstein took over as president of baseball operations prior to the 2012 season is to develop their own players in an effort to build a solid foundation of homegrown talent. That includes two of Boras' clients, Albert Almora and Kris Bryant.
"I think everybody knows that we have great respect for their baseball people there," Boras said of the Cubs' front office. "They've done a great job in the Draft. They know what they're doing. The real thing has nothing to do with the baseball people or how the organization is run. It's just the fact that you have a major market team that has dramatically more revenues than most clubs that do take this type of approach.
"The Cubs have the capacity to sign any player they want in baseball. The question is whether they think it fits their plan."
Epstein said he had a great relationship with Boras and seemed more amused by the comments.
"It's not the first time an agent has used the media to try to compel a team into spending huge amounts of money without knowledge of that club's financial situation," Epstein said. "It's not a surprise, and we're not going to get into a war of words with Scott, other than to say the folks who work at the Cubs probably have a better understanding of our situation than he does. We look forward to working with him and to continue to sign his players."
Carrie Muskat is a reporter for MLB.com. She writes a blog, Muskat Ramblings, and you can follow her on Twitter @CarrieMuskat. This story was not subject to the approval of Major League Baseball or its clubs.