Anthopoulos not shopping Rasmus at Winter Meetings
Anthopoulos not shopping Rasmus at Winter Meetings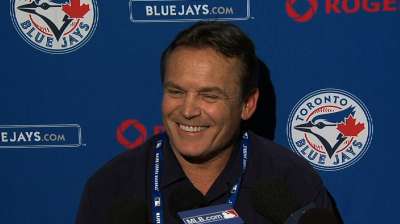 LAKE BUENA VISTA, Fla. -- General manager Alex Anthopoulos moved swiftly to dismiss any notion that the Blue Jays are actively shopping center fielder Colby Rasmus on Day 3 of the annual Winter Meetings.
A report in the Toronto Sun indicated late Tuesday night that Rasmus had been offered to two teams in exchange for starting pitching. Anthopoulos rarely discusses rumors through the media, and to a certain extent he remained evasive during an afternoon scrum with reporters, but he dropped plenty of hints that got his point across.
Anthopoulos didn't come out and specifically mention Rasmus, but spoke in general terms when asked a direct question about the rumors surrounding his center fielder's availability.
"I would say, just to kind of bury some of those [reports], with all of our players we'll be open minded if people want to approach us, but as we sit here today, I feel pretty confident that most, if not all, of our position player core will be here to start the year," Anthopoulos said. "Maybe that kind of shuts down whatever rumors are out there."
The point Anthopoulos tried to make was that Rasmus hadn't been offered to another team. That doesn't mean it won't happen at some point in the future, but that should hardly come as a surprise considering there isn't a single player on the Toronto roster that can be considered untouchable.
Anthopoulos has a price for everyone, it's just that the asking price for some is an awful lot higher than others. The only way the Blue Jays could realistically part ways with Rasmus is if a legitimate frontline starter became available. The way things stand right now, that would seem extremely unlikely considering the 27-year-old is just one year away from a potentially massive payday through free agency.
Toronto conceivably could part ways with Rasmus considering rookie Anthony Gose is waiting in the wings, but that downgrade would have to be offset by a big upgrade elsewhere. For the most part, it sounds like Anthopoulos is fielding a lot of inquiries on those players instead of actually being the aggressive one through trade talks.
"We've been asked about probably everybody on the 25-man roster in some form," said Anthopoulos, who was reiterating his comments from a day before. "For us to move an everyday position player and feel like we get better, that's hard to do. Would we rule it out? No. But I just think it's so unlikely and we're not close to doing anything.
"I think a lot of what has happened, we've had teams come to us. One thing that we have on this team is power and there's not a lot of power out there on the market, or the free agent prices don't work for some of the clubs. We've been approached by clubs asking for some of our position players that have power, but we haven't lined up on anything. But we've been open minded."
Gregor Chisholm is a reporter for MLB.com. Read his blog, North of the Border, and follow him on Twitter @gregorMLB. This story was not subject to the approval of Major League Baseball or its clubs.