Blue Jays may be active in Rule 5 Draft
Blue Jays may be active in Rule 5 Draft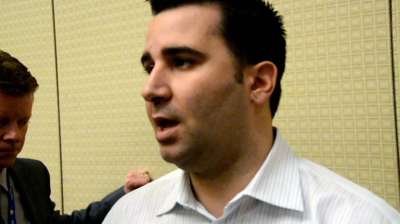 LAKE BUENA VISTA, Fla. -- The Blue Jays typically decline to make a selection during the Rule 5 Draft, but that stance could be about to change.
Toronto general manager Alex Anthopoulos admitted his club was interested in making a move during the Major League portion of the Draft, which will take place Thursday morning.
The Blue Jays need to open up a spot on the 40-man roster before it happens, but that should be a mere formality with word that right-hander Thad Weber is on the verge of being sold to a team in South Korea.
"We may select someone, we may make a trade regarding the Rule 5," Anthopoulos said. "We're trying to do something small with the Rule 5."
A team that selects a player in the Rule 5 Draft pays $50,000 to the organization from which he was selected. The receiving team must then keep the player on the Major League 25-man roster for the entirety of the next season, and the selected player must remain active -- not on the disabled list -- for a minimum of 90 days.
If the player does not remain on the Major League roster, he is offered back to the team from which he was selected for $25,000. If his original team declines, the receiving team may waive the player.
Toronto hasn't been very active in recent years during the Rule 5, but it once played a major role in how the organization was constructed. Kelly Gruber, George Bell and Willie Upshaw were all Rule 5 picks of former GM Pat Gillick, while more recently the likes of Josh Hamilton, Joakim Soria and Johan Santana switched organizations.
Toronto has the ninth pick in the Rule 5. Anthopoulos said he doesn't anticipate losing anyone from his organization during the Draft, but admitted he has been wrong about that before.
Gregor Chisholm is a reporter for MLB.com. Read his blog, North of the Border, and follow him on Twitter @gregorMLB. This story was not subject to the approval of Major League Baseball or its clubs.