Young arms could surface soon for Red Sox
Young arms could surface soon for Red Sox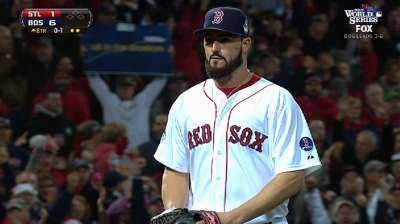 LAKE BUENA VISTA, Fla. -- On paper the Red Sox have a veteran-laden staff with six returning starting pitchers, but paper can blow away in the spring and summer, when attrition can take over.
General manager Ben Cherington doesn't feel the need to force one of his prospects into the rotation at this time. At some point, he realizes, it will probably just happen.
Anthony Ranaudo, Henry Owens, Allen Webster, Rubby De La Rosa and Matt Barnes are all young arms who could be knocking on the door. And Brandon Workman, a valuable reliever this past postseason, could get a chance to start if the opportunity presents itself.
"It could just happen naturally," Cherington said. "Every time we think about potentially moving a starter, something in the back of our head reminds us, 'Don't do it unless it really makes sense.' We know we're going to need more than five starters to get through the season. We'll probably need more than six starters to get through the season.
"Even if we do nothing, it seems likely that at some point one of those young guys is going to get a shot this year. That is important in the long run, because at some point, sometime in the future, in this next year or two, we're going to probably need to integrate another young pitcher in the rotation, and in order to do that, they have to have an opportunity.
"There is some value to [creating an opening], but it seems like it often happens naturally if you let it, rather than sort of forcing it. I guess that's where we are. We're just sort of balancing those things and, again, if it's something really compelling, we'll listen, we'll look at it. We just don't want to do it just for the sake of doing it."
In Spring Training of 2006, the Red Sox thought they had a glut of starting pitching and traded Bronson Arroyo for Wily Mo Pena. That move proved to be disastrous.
Ian Browne is a reporter for MLB.com. Read his blog, Brownie Points, and follow him on Twitter @IanMBrowne. This story was not subject to the approval of Major League Baseball or its clubs.