Royals remain reluctant to part with pitching
Royals remain reluctant to part with pitching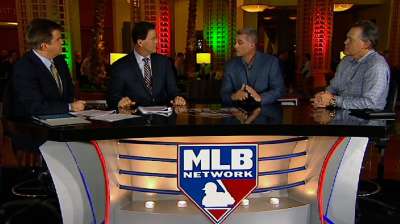 LAKE BUENA VISTA, Fla. -- The Royals' pitching staff led the American League this year with a 3.45 ERA, the first time that's happened since 1986. The bullpen's ERA of 2.55 was the best in the franchise's 45-year history.
So it's no wonder that when general manager Dayton Moore discusses deals with other clubs at the Winter Meetings, he's very protective of his pitchers.
"We're trying to lay a lot of groundwork. We're trying to create and anticipate all kinds of scenarios, not only for now, but for the future of our club. Just looking into available options," Moore said Tuesday evening. "Right now, we're focused on keeping as much pitching as we possibly can. That's about it."
The rumor mill went light on the Royals on Tuesday, the second day of the annual baseball talk and trade fest. Oh, there was a fleeting reference to the Angels' Mark Trumbo before he went to the Arizona Diamondbacks in a three-team swap. The Royals are looking for "another bat," but he's a first baseman-outfielder -- where would he play? Anyway, the trade squelched that.
Scouts from both teams dismissed reports that the Rockies were angling for one of the Royals' hard-throwing relievers -- Wade Davis, Luke Hochevar, Tim Collins or Aaron Crow. Apparently the teams haven't even talked about a deal. At any rate, manager Ned Yost has already mentioned Davis and Hochevar as possibly returning to starting roles.
"No, I think we're just really focused on keeping as much pitching as we can and staying strong with our pitching and our defense," Moore said. "Expecting our offense to continue to get better as we know it will."
The GM has already given up one young pitcher, left-hander Will Smith, to get right fielder Norichika Aoki from the Brewers.
Angels second baseman Howie Kendrick was taken off the market after the Trumbo deal, but free-agent second baseman Omar Infante was still unsigned, reportedly seeking $8 million annually on a long-term deal. But Moore keeps saying nice things about the second baseman he has in the fold, Emilio Bonifacio.
"I'm not really comparing him to other players, but what I would say is just a comment on the known, which is Emilio," Moore said. "We like his skills. He can run, he's prepared, he's a switch-hitter, he's always been a very durable player. When you can play multiple positions in the Major Leagues and you're a switch-hitter, you've got a lot of skills. ... It's a gifted player that can do that, so we like him."
With no moves done at Disney World so far and the Thursday morning wrap-up approaching, the Royals' major offseason acquisitions remain free agent left-hander Jason Vargas and Aoki. Vargas was in Kansas City for his signing on Nov. 21, but Aoki was at home in Japan for last Thursday's trade. So Moore and Yost got him on a telephone for "a nice conversation" late Monday night through a translator.
"Just kind of laid out our team and talked about the transition to Kansas City, so it went well," Moore said.
The Winter Meetings also include the Minor League clubs.
"We have our affiliate dinner tonight, so we get an opportunity to celebrate our championships in Omaha and Idaho Falls," Moore said. "The three Gold Glove winners we had this year were home-grown guys, so it's special for our affiliates to recognize those players and feel good about their accomplishments."
Meanwhile, the talk with other clubs goes on.
"We've had a lot of conversations, but again, I think it's more in the preliminary stages, just fact-finding missions more than anything else," Moore said. "But a lot of dialogue."
Dick Kaegel is a reporter for MLB.com. This story was not subject to the approval of Major League Baseball or its clubs.