Moore reacts to Cox's Hall of Fame election
Moore reacts to Cox's Hall of Fame election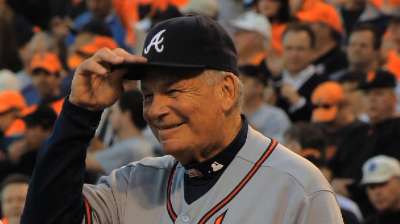 LAKE BUENA VISTA, Fla. -- Dayton Moore was with the Atlanta Braves' Minor League department during much of Bobby Cox's reign as manager. So Moore has real appreciation for Cox's election to the Hall of Fame with fellow managers Joe Torre and Tony La Russa.
"It's a no-brainer. Bobby is one of the most genuine people that you'd ever meet. Everybody loves him, and it was always very comforting knowing that he was in that dugout," Moore said. "You always felt that you could send any player to the Major Leagues and you knew that Bobby was going to treat them well and those players were going to want to really perform for Bobby."
Moore noted that Cox had the knack of making people feel comfortable.
"Bobby's great. He's one of the most inviting, genuine people I know," Moore said. "I certainly don't know Joe and Tony as well, but Bobby just loves the game, is very passionate, a great competitor, just a great baseball man."
Dick Kaegel is a reporter for MLB.com. This story was not subject to the approval of Major League Baseball or its clubs.