Jocketty insists Reds are not trying to trade Bailey
Jocketty insists Reds are not trying to trade Bailey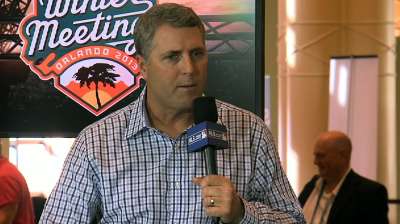 LAKE BUENA VISTA, Fla. -- There was speculation entering the Winter Meetings about how available Reds pitcher Homer Bailey might be for a trade.
The answer has proved to be not very available at all.
A tweet from a Wall Street Journal reporter on Tuesday had the Yankees asking the Reds about Bailey. Reds general manager Walt Jocketty made it clear it wasn't happening.
"I told them we're not trading him," Jocketty said. "We're trying to sign him."
As a power-armed right-hander coming off of back-to-back 200-inning seasons, the 27-year-old Bailey would be a valuable trade chip -- especially as the Reds seek some offensive help.
After he made $5.3 million in 2013, Bailey is third-year arbitration eligible and able to become a free agent after the 2014 season.
Bailey is now represented by the Excel Sports Management headed by agent Casey Close. He had previously used the Hendricks Brothers. Last season, he was 11-12 with a 3.49 ERA in 32 starts and 209 innings. He had 54 walks and 199 strikeouts.
Even with him entering his walk year, the Reds do not feel compelled to deal Bailey for players. There could be as much or more value in having him part of their rotation to contend for the postseason next season and getting the Draft pick compensation should Bailey depart as a free agent.
Mark Sheldon is a reporter for MLB.com. Read his blog, Mark My Word, and follow him on Twitter @m_sheldon. This story was not subject to the approval of Major League Baseball or its clubs.