Williams projects confident attitude at Winter Meetings
Williams projects confident attitude at Winter Meetings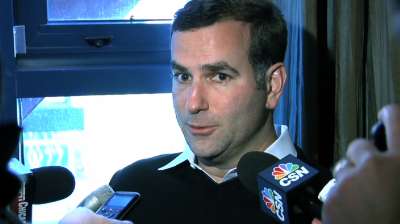 LAKE BUENA VISTA, Fla. -- White Sox executive vice president Ken Williams made some bold and confident predictions about the team during an interview with MLB.com on Tuesday afternoon in the lobby of Disney World's Swan & Dolphin Resort.
"We think that we are on the cusp of doing some other things that I think our fans are going to like," Williams said. "We are excited about the direction we are headed and I think with all of the disappointment that happened last year, nobody is going to be excited about us until we get back on the field.
"Our team is going to be improved. We are going to be younger, more exciting, and I think we are going to be a surprise to a lot of people."
Williams had just finished an interview with MLB Network, during which the White Sox executive vice president had joked with Ken Rosenthal about his early-morning list that placed the White Sox as one of the winter losers to date. Williams explained with a wry smile that unfortunately, their winter extended past these colder months of November and December due to last year's 99-loss debacle.
"I said 'Hey man. Our winter started in July,'" Williams said with a laugh. "We happen to like Avi Garcia. If you push him back to November or December, does that make you feel better about our winter?
"[Jose] Abreu? You can't say that everyone wanted him and what a prize and then exclude him from the equation, as well."
There also was praise from Williams for Felipe Paulino, the right-handed hurler with whom the White Sox agreed to terms Monday on a one-year, $1.5 million deal with an option for 2015. Williams believes Paulino is far enough removed from right elbow surgery that he could easily fall into the patented under-the-radar White Sox success stories.
Tuesday morning Winter Meetings rumors had the White Sox in pursuit of left-handed hitting outfielder Adam Eaton as part of a three-team deal with the Angels and Diamondbacks. Eaton, 25, could play center and lead off for the White Sox, with the rumblings having left-handed hurler Hector Santiago going to the Angels.
Santiago pitched well in a starter's role last season but was not guaranteed to be part of the White Sox deep rotation in 2014. Based on Williams' comments, more moves could be on the horizon.
He understands the outside skepticism concerning the organization's potential turnaround. Williams also described 2013 as some team shortcomings picking up steam and "rolling down a hill."
But in a direct and certainly non-adversarial tone, Williams made it clear the White Sox "are over it."
"Again, some of the things that we've done, some of the things that we've done recently are going to start to point the arrow up," Williams said.
Scott Merkin is a reporter for MLB.com. Read his blog, Merk's Works, and follow him on Twitter @scottmerkin. This story was not subject to the approval of Major League Baseball or its clubs.