MLB.com Columnist
Bernie Pleskoff
Texas prospect earns award for most homers in Minors
Texas prospect earns award for most homers in Minors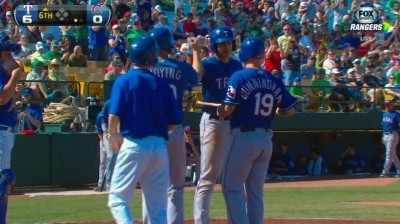 Rangers third base prospect Joey Gallo was presented the Joe Bauman Trophy by Musco Sports Lighting on Monday at the annual Winter Meetings in Lake Buena Vista, Fla., for leading the Minor Leagues in home runs.
Gallo -- a 6-foot-5, 205-pound left-handed hitter -- played briefly for the Arizona League Rangers, but had 392 at-bats for Class A Hickory in the South Atlantic League.
Gallo hit a combined 40 home runs for the season, 38 with Hickory.
As part of his award, Musco Sports Lighting presented Gallo with $200 for each of his homers, for a total of $8,000.
Realizing brevity was important at an awards luncheon with a large agenda, Gallo simply said, "Thank you," following the presentation of his award.
Bernie Pleskoff has served as a professional scout for the Houston Astros and Seattle Mariners. Follow @BerniePleskoff on Twitter. This story was not subject to the approval of Major League Baseball or its clubs.