Yost hopes Royals can pick up where they left off
Yost hopes Royals can pick up where they left off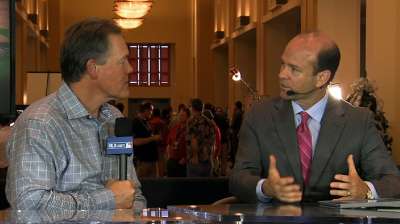 LAKE BUENA VISTA, Fla. -- What does manager Ned Yost want from his Royals in 2014?
"I'm looking for us to continue what we did from the All-Star break on," Yost said.
That's a logical goal, because the Royals were 43-27 after the break and finished 10 games over .500 at 86-76.
"I think as a young club going into last year, I felt very strongly that there would come a point when it'd all come together for us, and fortunately or unfortunately, that point didn't happen until the All-Star break," Yost said.
Swept in a three-game series at Cleveland, the Royals reached the break six games under .500.
"But when we came back, something clicked. Don't ask me what it was," Yost said. "Ervin Santana came out and shut out Detroit, beat 'em 1-0, and we never looked back. We won more games than anybody in the American League from that point on, and these kids started to understand, 'Hey, we can play baseball and compete in this division.' They started to believe it and buy into it, and it just clicked for them. And the second half was a lot of fun."
Dick Kaegel is a reporter for MLB.com. This story was not subject to the approval of Major League Baseball or its clubs.