Royals tinkering with Perez's catching mask
Royals tinkering with Perez's catching mask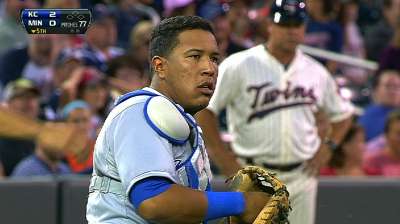 LAKE BUENA VISTA, Fla. -- The Royals, reacting to the loss of catcher Salvador Perez for seven games because of a concussion last August, are looking for ways to prevent a recurrence.
Don Wakamatsu, the Royals' new bench coach and catching instructor, is taking the lead on trying to protect Perez, an All-Star and Gold Glove Award winner last season. Other catchers have suffered as well.
"He's done a lot of research on some of these lighter masks, and that the concussions really started when the titanium masks came out," manager Ned Yost said. "We don't know if that has anything to do with it, but we're trying to figure everything, out because he's a valuable commodity to our club. I mean, we've got to have Salvy back there catching and in our lineup."
Going back to a heavier mask is a possible alternative.
"Anything is worth trying," Yost said.
Yost puts partial blame on the Royals' skid last May to Perez missing several games when called away by his grandmother's death in Venezuela. The team was 2-7 during his absence. They did better, 5-2, when he was out with the concussion in August, but Yost believes the catcher's presence is crucial.
"He's a rarity because, he's a Gold Glove catcher than can hit and be a middle-of-the-order offensive performer and producer," Yost said.
Dick Kaegel is a reporter for MLB.com. This story was not subject to the approval of Major League Baseball or its clubs.