Cashman seeks pitching, infield help at Meetings
Cashman seeks pitching, infield help at Meetings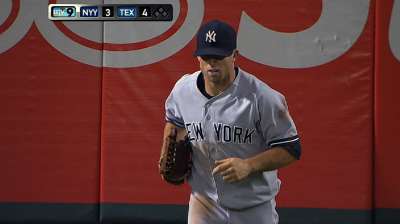 LAKE BUENA VISTA, Fla. -- Less than 24 hours after he dangled off the side of the tallest building in Stamford, Conn., again taking part in a holiday rappelling event, Brian Cashman's feet were firmly on the ground at the Winter Meetings.
Cashman arrived for the four-day event at the Walt Disney World Swan & Dolphin Resort believing that the Yankees have much more work to do, and the general manager was said to have spent the day chatting with his counterparts, searching for deals to fill some of the club's remaining holes.
A Yankees spokesman said that Cashman would not be available to speak to the media on Monday, but that he was planning to do so on Tuesday.
That is not unprecedented; last year, Cashman declined to be interviewed on the third day of the Winter Meetings, which coincided with a contract offer to Kevin Youkilis. There was also the memorable morning in December 2008 when Cashman slipped out of Las Vegas undetected, appearing on CC Sabathia's California doorstep to deliver a contract.
The discussions Cashman was having on Monday were likely somewhere in the middle. Cashman has said that he is searching for pitching and infield help, noting on Sunday that there is "no priority on it -- just what makes us better." The Yankees have talked with free-agent second baseman Omar Infante, but as of right now, Robinson Cano's departure to the Mariners has boosted the market for Infante beyond the Yanks' liking.
Despite losing Cano and outfielder Curtis Granderson in free agency, the Yankees feel like they are in the process of improving. They have spent a combined $302 million to secure catcher Brian McCann, outfielder Jacoby Ellsbury, infielder Kelly Johnson, right-hander Hiroki Kuroda and outfielder Carlos Beltran.
There will be more, they promise. The Yankees do not necessarily need to trade outfielder Brett Gardner, but he is a marketable chip as an Ellsbury-lite type player, particularly since he is only on target to earn about $4 million after arbitration this season.
The Reds and White Sox are among the clubs believed to be interested in Gardner, and the Yankees would consider pulling the trigger if it would fill needs at second base, third base, the rotation or the bullpen.
Clearly, the Yankees will look much different than the 85-win club that wrapped its season in September. That has forced the Yankees' rivals to sit up and take notice, particularly the defending World Series champion Red Sox, as manager John Farrell said that it was a blow to lose Ellsbury.
"He's a darn good player when he was playing at his full capacity -- which, again, I think everyone has to take into account," Farrell said. "He played with a broken foot. He played with a beat‑up left thumb, and I think he proved to a lot of people -- including himself -- that he's very capable and certainly a dynamic player, disruptive on the basepaths."
Farrell added that he was pleased to see Cano leave the division with his 10-year, $240 million deal in Seattle.
"We'll only face him seven or 10 times instead of 19," Farrell said. "You know what, free agency does some different things, and he's a great player. You remember as a pitching coach, he's a guy that keeps you up at night trying to find ways to attack him. But I'm glad he's out of the East."
Rays manager Joe Maddon said that he thought losing Cano and adding Ellsbury represented something of an even break for the Yankees and Red Sox.
"The Yankees lost a pretty good player. They gained a good player right there [in Ellsbury]," Maddon said. "Boston lost a good player with Ellsbury, but they have nice people in his place also. I don't know. It's almost like kind of a push feel to the whole thing, I think. Both of them will be really good again."
Ellsbury hit just nine home runs in 134 games for the Red Sox last year, but Maddon said that he expects Ellsbury's power to climb back toward the career-high 32 homers he hit in 2011.
"Ellsbury is going to show more power, obviously," Maddon said. "He can get into the right-center spot [at Yankee Stadium], so his home runs will probably come back up again."
The podium at the Winter Meetings had some Yankees flavor on Monday, as Joe Torre joined Bobby Cox and Tony La Russa in celebrating their unanimous inductions into the Hall of Fame by the 16-member Expansion Era Committee. But as for formal press events, the Yankees may to be saving their thunder for the Bronx.
Ellsbury's introductory news conference is scheduled for Friday, and Beltran is expected to have a day in New York as well. The Yankees also do not have to wonder about the chance for any awkward exchanges with Cano in the hotel lobby; the Mariners are said to be planning their introduction for next week at Safeco Field once Cano's physical is ironed out.
That probably wasn't high on Cashman's list of concerns, anyway. He said on Sunday that the Yankees were disappointed to lose Cano, but already sounded like a man who had moved on to more pressing and realistic concerns.
"You know, I wish things were like the NFL free agency where in 48 hours everything comes off the board," Cashman said. "But unfortunately, that's not how baseball free agency works.
"So you've got to drag out, walk through it and stress out, lose sleep and keep engaged. And hopefully, we can make some trades, too, that help us, so I'm glad we have gotten what we've gotten and I hope we can get some more."
Bryan Hoch is a reporter for MLB.com. Follow him on Twitter @bryanhoch and read his MLBlog, Bombers Beat. This story was not subject to the approval of Major League Baseball or its clubs.