Gorzelanny recovering from shoulder surgery
Gorzelanny recovering from shoulder surgery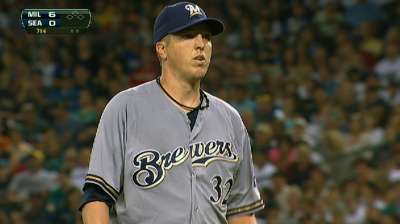 LAKE BUENA VISTA, Fla. -- Brewers left-hander Tom Gorzelanny underwent shoulder surgery last week, assistant general manager Gord Ash revealed Monday.
Gorzelanny, who did not pitch after Sept. 2, underwent what Ash described as a "cleanup" of the joint and is expected to be rehabbing until mid-March. Because he is ticketed for a bullpen role, the Brewers think Gorzelanny will have enough time to be ready by Opening Day.
"He wasn't really progressing from that shoulder issue he had toward the end of the year, so he asked for a second opinion with [Mets medical director Dr. Richard] Altchek," Ash said. "Dr. Altchek recommended what I would in layman's terms classify as a little cleanup of the acromion, which is a little bone in your shoulder."
Adam McCalvy is a reporter for MLB.com. Read his blog, Brew Beat, and follow him on Twitter at @AdamMcCalvy. This story was not subject to the approval of Major League Baseball or its clubs.