Tribe evaluating extent of Santana's time behind dish
Tribe evaluating extent of Santana's time behind dish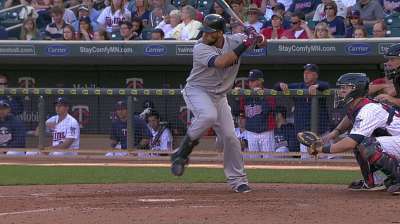 LAKE BUENA VISTA, Fla. -- The Indians are exploring every possibility when it comes to catcher Carlos Santana's role with the team next season. Cleveland plans on reducing his innings behind the plate, but the club is still weighing the extent of that decision.
The Indians are in the market for a third-string catcher, but the team might also look into backup alternatives. As things currently stand, starting catcher Yan Gomes and Santana will split the duties behind the plate, but Cleveland is still evaluating that pairing.
"We'll see how things progress with Carlos and see what our options are," Indians general manager Chris Antonetti said on Monday at baseball's annual Winter Meetings. "At this point, the vast majority of the scenarios that we've looked at have him continuing to catch in a shared role for us."
Santana is scheduled to begin playing third base soon (with some at-bats as a designated hitter) for Leones de Escogido in the Dominican Winter League. Cleveland already plans on using the switch-hitting Santana primarily as a DH and first baseman, but he volunteered to also try his hand at third base, which he played as a Minor Leaguer in the Dodgers' farm system early in his career.
The Indians like the possibility of having Santana as a viable option for a handful of positions in order to keep him in the lineup on an everyday basis. Last season, he hit .268 with a .377 on-base percentage, .455 slugging percentage, 20 home runs, 39 doubles, 74 RBIs, 75 runs scored and 93 walks.
In the first half last season, Santana logged 509 innings at catcher and 109 innings at first base. During the second half, as Gomes emerged as the Indians' regular catcher, Santana caught 203 2/3 innings and manned first base for 106 innings. Santana started 31 games at DH in the second half (16 in September), compared to just 16 games in the first half.
Cleveland has some concern, however, that fewer innings behind the plate may have the potential to hurt Santana's defense.
"We've talked about that a little bit," Antonetti said. "We think he'll save from some of the wear and tear by catching a little bit less. So hopefully that offsets him getting fewer reps behind the plate defensively."
Antonetti indicated that the Indians could have interest in re-signing veteran Kelly Shoppach, who worked as the team's third-string catcher in September last season. Former Tribe backup Lou Marson was recently non-tendered by the club, but could be a free-agent option on a Minor League contract.
Jordan Bastian is a reporter for MLB.com. Read his blog, Major League Bastian, and follow him on Twitter @MLBastian. This story was not subject to the approval of Major League Baseball or its clubs.