Price rumors heating up, but Dodgers quiet
Price rumors heating up, but Dodgers quiet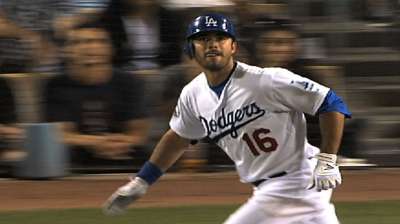 LAKE BUENA VISTA, Fla. -- With last week's flurry of signings, the first day of the Winter Meetings Monday was dominated by talk of the Dodgers possibly acquiring Tampa Bay ace David Price.
Of course, the talk was speculation from agents, officials from other clubs and the media. The two principal clubs gave no indication anything was about to happen. It will take a package of young prospects to pry Price loose, and that's what the Dodgers are asking for when clubs call about trading for one of their outfielders.
Although it would mean parting with several of the best prospects in the organization -- Joc Pederson, Julio Urias, Corey Seager, Zach Lee, etc. -- adding Price to a rotation that already has Clayton Kershaw, Zack Greinke, Hyun-Jin Ryu, Dan Haren, Josh Beckett and Chad Billingsley stirs memories of the Atlanta Braves rotation that current Dodgers president Stan Kasten oversaw in the 1990s.
Dodgers general manager Ned Colletti, though, was poker-faced. He said he was still waiting for some of his aides to arrive in Florida, with travel plans having been disrupted by storms and meetings with other clubs being rescheduled.
"We've been weather-challenged," he said.
He also remains third-base challenged, waiting on Juan Uribe to accept an offer, with Uribe being the best available third baseman in what Colletti termed a "shallow pool" of talent at the position. Colletti said at this time he's not planning on moving shortstop Hanley Ramirez to third base or beginning Cuban rookie Alexander Guerrero's Major League career there.
Colletti watched Guerrero play in the Dominican Winter League last week and came away saying that he "needs to play, needs at-bats," which is not the same as saying Guerrero is ready to be in the Opening Day starting lineup.
In fact, Colletti also ruled out Guerrero as a third-base option, saying he still projects at second base. That said, the Dodgers are still talking to free agent Mark Ellis about returning short term at second base. They've also been linked to free-agent infielder Omar Infante.
Ken Gurnick is a reporter for MLB.com. This story was not subject to the approval of Major League Baseball or its clubs.