Yankees go to bat for Stand Up To Cancer
Yankees go to bat for Stand Up To Cancer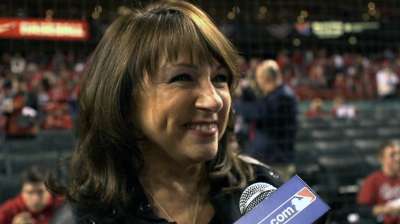 LAKE BUENA VISTA, Fla. -- After two days of bidding, it should come as no surprise that the Yankees' offer of "Intern for a Day" has generated one of the highest dollar figures of all 80 items available through MLB.com's Stand Up To Cancer (SU2C) auction.
Five bids had come in, with the highest totaling $2,520. Check out the perks:
• The internship in the Yankees PR department (for high school or college students only) will give the winner the opportunity to spend a day in the Yankees' front office at Yankee Stadium and receive a tour of the home clubhouse.
• The winner will personally deliver game notes to manager Joe Girardi and assist with his daily pregame press conference. He or she will also be given a mention in the game notes as a guest intern for a day.
• Following the press conference, the "intern" will be given on-field access to watch batting practice from the field or dugout. Before the start of the game, he or she will also have the opportunity to have lunch or dinner in the press dining room with members of the Yankees' local and national print media.
• At game time, the intern will sit in the press box with the Yankees' media relations department, and he or she will get an inside look at how a game is broadcast by spending an inning in the WCBS Radio booth with John Sterling and Suzyn Waldman, and an inning in the TV broadcast booth with the likes of Michael Kay, Ken Singleton, Al Leiter, John Flaherty, David Cone and Paul O'Neill. Finally, the Yankees will provide a personalized, in-game message on the scoreboard, recognizing the winner for his or her hard work.
The MLB.com Auction to benefit Stand Up To Cancer is part of a much larger initiative that MLB has supported since 2008 as founding sponsor. Public relations representatives from all 30 clubs were inspired to act based on individual club members affected by the disease, and they jointly organized the auction.
By early Tuesday, 242 bids had been placed, with the highest dollar amounts totaling nearly $45,000. This is hardly shocking, given the unique nature of the 80 items that have been made available from all 30 teams.
Bidding closes at 10 p.m. ET Thursday on dozens of baseball-related experiences ranging from private pitching and batting lessons with players to lunches with general managers to team bus rides and meet-and-greets with Hall of Fame players.
Last year, the auction raised more than $150,000. Major League Baseball and its 30 clubs are the founding partners of SU2C and a lead donor since 2008, committing more than $40 million through 2014. As the initiative's founding donor, MLB has collaborated with Stand Up To Cancer on significant awareness-building efforts, including public service announcements, in-stadium promotion and fundraising events, and a World Series game has been dedicated to the initiative for each of the past three years.
Every team has donated at least one item or experience, with most teams offering multiple donations.
Alyson Footer is a national correspondent for MLB.com. Follow her on Twitter @alysonfooter. This story was not subject to the approval of Major League Baseball or its clubs.