Auction items to help cause close to Sox hearts
Auction items to help cause close to Sox hearts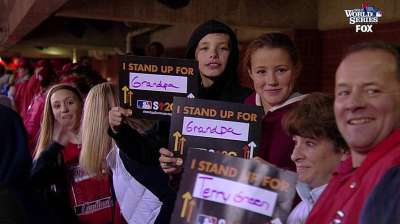 LAKE BUENA VISTA, Fla. -- When Red Sox president/CEO Larry Lucchino was diagnosed with non-Hodgkin lymphoma 28 years ago, he never imagined the type of role baseball would end up playing in the fight against cancer.
So when Major League Baseball leads an initiative like the auction this week -- which includes items from all 30 teams and benefits Stand Up To Cancer -- Lucchino feels fortunate to work in such a socially conscious industry.
"It's near and dear to my heart," Lucchino said. "I'm really proud that baseball, as a whole, is doing this and grateful to the Commissioner [Bud Selig] for personally leading the charge to expand baseball's role in the fight against cancer. He speaks often of baseball's social responsibilities, and this is a manifestation of that point of view. To turn that into a vehicle to raise awareness, and, very importantly, to accelerate research, is a major point of pride for all of us in baseball."
The Red Sox have made several unique items available for this year's auction, including:
The chance to watch a game from inside the Green Monster.
An autographed bat from World Series Most Valuable Player David Ortiz.
A day with the 2013 World Series trophy.
The start of the annual auction was announced in Monday's first day of the Winter Meetings as an MLB.com Auction to benefit Stand Up To Cancer, which MLB has supported since 2008 as founding sponsor. Public relations representatives from all 30 clubs were inspired to act based on individual club members impacted by the disease, and they jointly organized the auction, which will be officially announced at a news conference Monday with MLB staff. Bidding closes at 10 p.m. ET on Thursday with 80 baseball-related experiences ranging from private pitching and batting lessons with players to lunches with general managers to team bus rides and meet-and-greets with Hall of Fame players.
In the decades since he overcame cancer, Lucchino continues to be awed by the advances to cure the wide-ranging disease that has impacted so many lives.
"Yeah, to see the advances they've made with the non-Hodgkin's lymphoma in the last 25 years have been dramatic and effective. I know that's being replicated with other types of cancer research," Lucchino said.
Though Lucchino was working with the Orioles when he was diagnosed, he spent several weeks in Boston undergoing his treatment at the cancer-fighting Jimmy Fund, which has been an institution that the Red Sox have partnered with for 60 years.
Perhaps it's only fitting that Lucchino wound up working for the Red Sox, taking over as part of the ownership group led by John Henry that came to Boston in 2002 and has presided over three World Series championships.
"The Red Sox have a long history, a 60-year history in partnership with the Jimmy Fund," Lucchino said. "Our commitment to the cause is well established, and that's why we're so grateful. I think the Jimmy Fund in some ways has been an inspiration for the Commissioner in Stand Up To Cancer and it's worked so well on a regional level. In some ways, it's national, but more regional. The Commissioner would love to see the same kind of success brought about and the same relationship developed between baseball as a whole and cancer-fighting as a whole."
During Game 4 of the World Series, there was an in-game delay so that baseball could recognize Stand Up To Cancer.
Players from the Red Sox and Cardinals held out signs naming certain individuals they've supported who have been impacted by cancer.
"I thought it was pretty dramatic and very effective, and I think that's an example of the Commissioner's personal passion for the cause," Lucchino said. "He leads it, and it's such a compelling cause. So when someone takes the leadership, people are very willing to participate and to jump in line and join him."
The latest chance to jump in line and join has been provided in the form of this week's auction.
Ian Browne is a reporter for MLB.com. Read his blog, Brownie Points, and follow him on Twitter @IanMBrowne. This story was not subject to the approval of Major League Baseball or its clubs.