Stand Up To Cancer initiative hits home for Reds
Stand Up To Cancer initiative hits home for Reds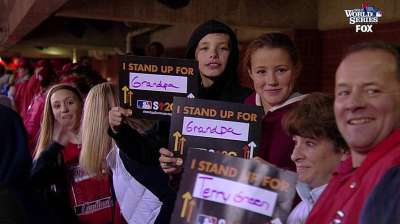 LAKE BUENA VISTA, Fla. -- Cancer continues to inflict damage on the population, but each year, there are success stories. The Reds had two of them in 2013.
Mark Berry, Cincinnati's longtime third-base coach, fought cancer in his tonsils and lymph nodes. And Reds season sales manager Chris Herrell, a front-office employee, endured a rare blood cancer.
"You want to be positive," Berry said in June after he returned to the club after more than two months of treatment. "Deep down, I think I'm going to beat it on the first go around, but there's always that little doubt."
Baseball's Winter Meetings this week include an MLB.com Auction to benefit Stand Up To Cancer, which MLB has supported since 2008 as founding sponsor.
Public-relations representatives from all 30 clubs were inspired to act based on individual club members impacted by the disease, and they jointly organized the auction, which will be officially announced at a news conference on Monday in Lake Buena Vista with MLB staff.
Bidding closes at 10 p.m. ET Thursday, with 80 baseball-related experiences ranging from private pitching and batting lessons with players to lunches with general managers to team bus rides and meet-and-greets with Hall of Fame players.
For their participation, the Reds have three unique experiences for fans to make bids.
One experience is lunch and a ballgame with Reds third baseman Todd Frazier. There is also a chance to meet first baseman Joey Votto and take home his game-used bat and batting gloves. Finally, there is a similar item to meet right fielder Jay Bruce and take home his game-used bat and batting gloves.
In September, Berry learned that he was cancer free after a PET scan.
"I was very pleased. Great news," said Berry, who decided not to return to the coaching staff for the 2014 season. "I won't forget this day."
In the fall of 2012, Herrell was diagnosed with myelodysplastic anemia, a blood cancer that attacks red blood cells, white blood cells and platelets. Only a bone marrow transplant would save his life.
"I probably would have lasted a few more months," Herrell said last month. "The blood transfusions could only last so long."
Through publicity efforts and a donor drive held by the Reds, about 2,500 people registered to become potential bone marrow donors through bethematch.org.
"It meant the world," said Herrell, a 15-year employee of the Reds. "There was no way we could have done this on our own and gotten that amount of people to register."
Herrell underwent a life-saving bone marrow transplant in April and was healthy enough to return to work with the Reds in October. In the process, he and Berry became two more among the millions that have stood up to cancer.
Mark Sheldon is a reporter for MLB.com. Read his blog, Mark My Word, and follow him on Twitter @m_sheldon. This story was not subject to the approval of Major League Baseball or its clubs.