Newly acquired Holmberg makes it to Redsfest
Newly acquired Holmberg makes it to Redsfest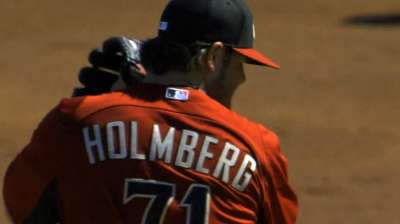 CINCINNATI -- The week has been a whirlwind for new Reds left-handed pitcher David Holmberg. He was acquired from the D-backs on Tuesday in a three-way trade that sent catcher Ryan Hanigan to the Rays.
A few days later, Holmberg was at Redsfest meeting all of his teammates, coaches and Reds fans.
"All in the same week. I'm glad I made it," said Holmberg, who is on the 40-man roster and expected to add depth from Triple-A Louisville.
Holmberg, who lives in Port Charlotte, Fla., had to scramble to get a winter coat when he got to Cincinnati, which experienced a snow storm on Friday.
"They don't sell a lot of those in Florida," he said.
Holmberg, 22, has spent most of the last two seasons at Double-A Mobile, where he was 5-8 with a 2.75 ERA in 26 starts in 2013. In 157 1/3 innings, he allowed 138 hits and 50 walks while striking out 116. He made one big league start for Arizona on Aug. 27 vs. San Diego and pitched 3 2/3 innings.
Appreciative that the Reds sought to acquire him, Holmberg was ready to get the next phase of his career moving.
"When you're wanted, it makes a player feel great," Holmberg said. "It makes you want to work harder for a team. I'm ready to work hard for the Reds and be somebody they want for a long time."
Mark Sheldon is a reporter for MLB.com. Read his blog, Mark My Word, and follow him on Twitter @m_sheldon. This story was not subject to the approval of Major League Baseball or its clubs.