Jocketty talks Choo, Phillips during Q&A
Jocketty talks Choo, Phillips during Q&A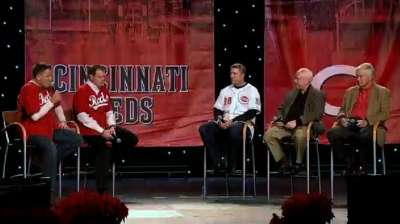 CINCINNATI -- During Day 2 of Redsfest on Saturday, one of the more popular draws is the Hot Stove question-and-answer session for fans. Featured on stage was manager Bryan Price, general manager Walt Jocketty and president/CEO Bob Castellini.
The questions often touch on hot-button club issues and this session was no different. A fan asked about the chances of the Reds re-signing leadoff hitter Shin-Soo Choo. Jocketty was not optimistic.
"It's going to be very difficult for us with the amount of money that's out there," Jocketty said.
Earlier this week, the Yankees and center fielder/leadoff hitter Jacoby Ellsbury reportedly agreed to a seven-year, $153 million contract -- which established a possible market price for Choo.
Another topic the came up was second baseman Brandon Phillips, who has been the subject of trade rumors. Jocketty, who moved to stop them this week, felt that an earlier offseason rumor about Phillips drawing interest from the Yankees was leaked by New York to put pressure on free agent Robinson Cano.
"It didn't work," Jocketty said. Cano reportedly agreed to a 10-year contract with the Mariners on Friday.
With the Yankees needing a second baseman, Jocketty was asked about Phillips rumors starting again. That's when Castellini intervened.
"I don't care about the Yankees. Let's move on," Castellini said.
Mark Sheldon is a reporter for MLB.com. Read his blog, Mark My Word, and follow him on Twitter @m_sheldon. This story was not subject to the approval of Major League Baseball or its clubs.