Price receives warm reception at Redsfest
Price receives warm reception at Redsfest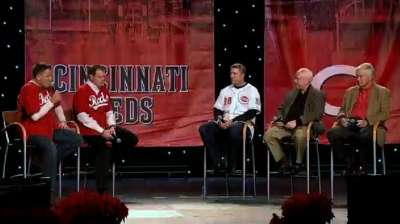 CINCINNATI -- Bryan Price experienced Redsfest for four years as the Reds' pitching coach. As the team's new manager, Price has been front and center during Redsfest 2013 and appreciative of the warm welcome he's received.
"It's been great. The reception has been phenomenal," Price said on Saturday. "I couldn't have ever expected to have this type of reception from the fan base. I've been really touched by it.
"Redsfest is phenomenal. I've been a part of three different organizations and their fan fest types of galas. This is terrific for many reasons. No. 1, it's the dead of winter and the baseball fans in Cincinnati come out in droves to support this team. The Reds are good at bringing back the iconic players, but also some of the guys that were role players but significant in Reds history. It's an honor to be around so many guys that I watched as a kid growing up going to Candlestick Park and seeing the Reds beat up on the Giants. Seeing these guys come up and be so supportive of me as manager is much beyond what I ever would have expected."
Price took part in the standard autograph sessions, and on Saturday, he was featured with general manager Walt Jocketty and president/CEO Bob Castellini in a Hot Stove question-and-answer session with fans.
Fans will get to know Price in the upcoming season, but he doesn't have to introduce himself to most of the current team. The players know what he's about and have a decent idea of what to expect when the team reconvenes at Spring Training in February.
"The pre-existing relationships with the players are important," said Price, who signed a three-year contract to replace Dusty Baker in October. "I think that they know kind of what I'm about and what my character is. I practice what I preach in the sense that I've always been a team-and-organization-guy-first person. I'm asking us to universally take that approach from top to bottom. It's not a message I can blast to the team if I'm not living it."
Mark Sheldon is a reporter for MLB.com. Read his blog, Mark My Word, and follow him on Twitter @m_sheldon. This story was not subject to the approval of Major League Baseball or its clubs.