Blue Jays content with second-base options
Blue Jays content with second-base options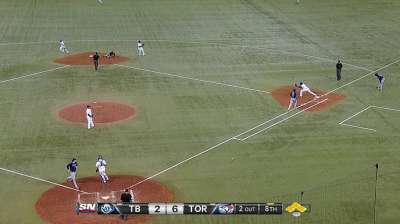 TORONTO -- The Blue Jays are still in the market for a second baseman, but if something doesn't materialize, they seem content with the options already in place.
Barring any changes, Toronto would open the year with rookie Ryan Goins and veteran Maicer Izturis working together in some sort of a platoon. The bulk of the load likely would fall to the solid defender Goins, but there's still time for that to change.
There have been various rumors this offseason that linked Toronto to the likes of the Angels' Howie Kendrick or the Reds' Brandon Phillips, but it seems like general manager Alex Anthopoulos would be content with adding someone who isn't quite as big of a name.
"I'd like to add some competition and some depth," Anthopoulos said. "You'd like to create the middle-infield depth that you can. If someone can come in on a Minor League [deal] or we trade for someone, it means Goins has to be optioned. It's a way to create more depth in the competition. Right now, we're not going to force anything. It would be that tandem of Goins and Izturis."
Even if the Blue Jays were planning on doing something bigger than that, it's unlikely Anthopoulos would tip his hand to the media. Still, there appears to be a level of confidence in Goins, especially considering the impact he had on the infield defense.
Toronto's infield defense was one of the worst in baseball last season. One of the main reasons for that was the prolonged absences of third baseman Brett Lawrie and shortstop Jose Reyes because of injuries, but the issues at second base were just as glaring.
Izturis struggled, especially in the first half, while Emilio Bonifacio proved incapable of handling ground balls on the fast AstroTurf at Rogers Centre. Goins provided some much-needed stability at the position, but there are still plenty of question marks about whether he will be able to consistently hit at the big league level.
Goins is trying to address some of those issues this offseason by working with new hitting coach Kevin Seitzer in Kansas City. That's one small step, and for now, the club will move forward with that at least as a backup plan while other scenarios continue to be explored.
"We've talked to some free agents, we've talked to some teams about trade," Anthopoulos said. "I'm not saying I expect to do something there. We may do something, but if I had to guess, it's something that we'd do in January if things break right -- just knowing the options out there in free agency and some of the other guys that are available in trade."
Gregor Chisholm is a reporter for MLB.com. Read his blog, North of the Border, and follow him on Twitter @gregorMLB. This story was not subject to the approval of Major League Baseball or its clubs.