Winter Leagues roundup: Hamilton's HR keys Guasave
Winter Leagues roundup: Hamilton's HR keys Guasave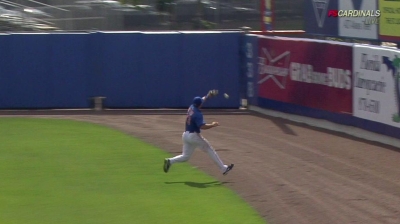 Mexican Pacific League
Guasave 6, Hermosillo 5
Mark Hamilton hit a solo homer in the top of the ninth to fuel Guasave to the one-run victory. Jesus Cota and Gabriel Gutierrez each had two hits in the game for Guasave, which overcame a poor start from Orlando Lara. Yoslan Herrera earned his 11th save of the season. Jerry Owens had three hits for Hermosillo. Box score
Culiacan 4, Obregon 2
Alejandro Armenta scattered two hits and five walks over 5 2/3 innings, while striking out five to get the win for Culiacan. Jorge Reyes pitched two innings of shutout relief for the save and Ronnie Musteller led the way offensively, with a 2-for-4 performance and an RBI. Dan Robertson went 3-for-3 with a double and an RBI from the top of the Obregon lineup, and catcher Iker Franco had three hits, as well. Box score
Navojoa 9, Mexicali 5
Navojoa scored four runs in the fifth en route to a 9-5 victory, which also featured Salvador Robles' fourth win of the season. He scattered three earned runs over five frames. Navojoa's Jose Chavez went 3-for-4 with three runs and an RBI in the leadoff spot, while Oscar Robles led the way with three hits for Mexicali. Xorge Carrillo and Gil Velazquez also had two RBIs. Box score
Los Mochis 2, Mazatlan 1 (10 innings)
Sebastian Valle doubled in the 10th for the game-winning run after the two teams were knotted for most of the game. Thomas Melgarejo struck out seven in six innings, while Valle and Rodolfo Amador each had two hits for Los Mochis. Box score
Venezuelan Winter League
Caracas 3, Lara 1
Daniel Mayora, Alex Gonzalez and Gregorio Petit each drove in a run for Caracas as Yoanner Negrin pitched five shutout innings. Lara's Joe Thurston went 3-for-4 with a double in the loss, while Luis Jimenez drove in Lara's lone run. Bobby Abreu and Gonzalez each went 2-for-4 for Caracas. Box score
Caribes 2, Zulia 0
Chris Smith pitched six shutout innings, scattering six hits and striking out four, and the Caribes bullpen held Zulia to just one hit over the last three innings. Kansas City's Gorkys Hernandez went 2-for-4 for Caribes, and Oscar Salazar doubled. Sandy Leon doubled and went 2-for-4 for Zulia. Box score
Aragua 8, Margarita 4
Aragua starter Erik Arnesen -- an Oakland A's farmhand -- gave up four runs in five innings, but that was the only damage Margarita did on the day, and Aragua's offense provided more than enough run support. Alex Romero went 4-for-5 with two runs and an RBI, while Ronny Cedeno drove in three runs. Margarita pitchers issued 12 walks in the game. Box score
Australian Baseball League
Adelaide 4, Brisbane 0
David Holman pitched six shutout innings -- scattering seven hits -- to earn his second win and lower his season ERA to 1.25. He struck out two and walked two. Fu-Te Ni earned the hold after pitching a scoreless frame, and Craig Goodman took the loss. Adelaide center fielder James Baldwin hit a two-run homer in the sixth, and Stefan Welch and Chris Jacobs each drove in a run.
Joey Nowak is a reporter for MLB.com. Follow him on Twitter at @joeynowak. This story was not subject to the approval of Major League Baseball or its clubs.