Trout runner-up to Cabrera again in AL MVP voting
Trout runner-up to Cabrera again in AL MVP voting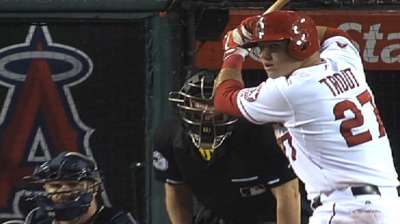 ANAHEIM -- Mike Trout followed up a historic rookie season with a sophomore campaign that in some ways was even better, but the result remained the same:
No playoff appearance for his Angels, and a distant second to Tigers third baseman Miguel Cabrera for the American League's Most Valuable Player Award.
The Baseball Writers' Association of America gave Cabrera a second straight MVP on Thursday, as announced on MLB Network, after a season in which he led the Majors in batting average (.348), on-base percentage (.442) and slugging (.636), while adding 44 homers and 137 RBIs for the AL Central champs.
Trout's 563 MVP voting points the last two years are the most in the expansion era by a player in his rookie and sophomore seasons, according to the Elias Sports Bureau.
Trout, who led the Majors in Wins Above Replacement for a second straight year, received five first-place votes, 18 fewer than Cabrera and one fewer than last season. Cabrera, coming off a Triple Crown in 2012, notched 385 points to easily surpass Trout's 282. The other finalist, Orioles first baseman Chris Davis, received one first-place vote -- as did A's third baseman Josh Donaldson -- and 232 points after leading the Majors with 53 homers and 138 RBIs.
"I can't say I'm surprised by the outcome," Angels general manager Jerry Dipoto said in a phone conversation. "I'm really happy for Mike that the writers, in consecutive years, have recognized the contributions he made. Obviously Cabrera's had two unbelievable seasons and the Tigers have been to the postseason; he's been deserving of his accolades, as well. But Mike's time is here. He's performed like the elite players in the league for the last two years and deserves the recognition."
Trout batted .323/.432/.557 in 2013, almost mirroring the .326/.399/.564 from a 2012 season that led to a unanimous AL Rookie of the Year Award. He led the AL in runs (109) and walks (110), set a franchise record in on-base percentage, hit for the cycle, started the All-Star Game and ranked second in the AL with 75 extra-base hits, all while adding 27 homers, 97 RBIs and 33 steals.
On a conference call to talk about his back-to-back MVPs, a feat accomplished by only 12 others, Cabrera called Trout "the best player in the league."
"He's got everything," Cabrera added. "Being in the same race with that guy, at that age, it's unbelievable."
Trout's 10.4 fWAR easily led the Majors in 2013, after his 10 fWAR led the Majors in 2012. Cabrera, who doesn't contribute nearly as much on the bases or on defense, had a 7.6 fWAR, helping to spark yet another heated debate between new and old-school methods of voting for baseball's most distinguished award.
This is the first time the same two players have finished first and second in the voting two years in a row since Barry Bonds and Albert Pujols in the National League from 2002-03, and the first time it happened in the AL since Yankees teammates Roger Maris and Mickey Mantle from 1960-61.
But Cabrera's offensive production and his team's success swayed the vote. He led the Majors in total OPS (1.078) and OPS with runners in scoring position (1.311), all while playing with a groin injury for most of the second half. And while his Tigers clinched a postseason berth for the third straight year, Trout's Angels weren't even at .500 after the second game of the season.
Trout saw this coming.
Asked at the end of the season about his chances for the MVP, the Angels' phenom playfully scoffed, saying: "I think it's going to be another thing like last year. I can't take it away from Cabrera. He won the division, is going to the playoffs and we're heading home after the game. That's a big contribution, being on a winning team."
But it doesn't take away from the elite company Trout once again joined.
Only Ty Cobb, Babe Ruth, Rogers Hornsby, Ted Williams, Mantle, Willie Mays and Bonds had posted back-to-back double-digit fWAR seasons. Only Cobb and Rickey Henderson had 75-plus steals before age 22 in the AL. Only Mantle and Al Kaline had 65 doubles, 15 triples and 50 homers before age 22. Only Williams and Wade Boggs had at least 360 hits and 150 walks in their first 300 games since 1935. And only Mays had a .320 average, 25 homers and 30 steals in two seasons at any point in his career.
Until Trout came along.
Had he beaten out Cabrera, Trout would've been the third player in Angels history to win the MVP, joining Don Baylor in 1979 and Vladimir Guerrero in 2004, and the second-youngest to win it in either league, trailing only A's pitcher Vida Blue in 1971.
He did it despite entering 2013 amid the loftiest of expectations. He did it without getting many pitches to hit, especially with Pujols out for the final two months. He did it while getting watched closer than ever on the bases. And he did it while playing two outfield positions (left and center field) and hitting in three spots in the lineup (first, second and third).
That can be a lot to take on for someone who has been 22 for barely two months. But, as Dipoto said, "not if you know Mike, and his preparation, the confidence that he has in himself. Frankly, his skills are so advanced, and his understanding of the game are so advanced. He really is a tremendous player in all aspects of the game. The maturity that he shows on the field and in his preparation are so far beyond -- you wouldn't even think of him in the context of having just turned 22 years old. His maturity and feel to play the game at the highest level are far beyond that."
2013 AL MVP VOTING
Player, Club
1st
2nd
3rd
4th
5th
6th
7th
8th
9th
10th
Points
Miguel Cabrera, DET
23
7
385
Mike Trout, LAA
5
19
3
1
1
1
282
Chris Davis, BAL
1
4
11
12
1
1
232
Josh Donaldson, OAK
1
14
9
3
3
222

Robinson Cano

, NYY
1
5
9
2
6
5
2
150

Evan Longoria

, TB
4
6
6
4
5
3
103

Dustin Pedroia

, BOS
1
5
5
5
4
2
1
99

Adrian Beltre

, TEX
2
8
7
3
4
2
99

Manny Machado

, BAL
2
1
2
5
5
7
57

David Ortiz

, BOS
2
1
2
2
1
2
2
47

Jason Kipnis

, CLE
1
1
3
3
5
31
Max Scherzer, DET
1
2
1
1
2
25

Adam Jones

, BAL
1
1
9

Edwin Encarnacion

, TOR
1
2
7

Greg Holland

, KC
1
3

Carlos Santana

, CLE
1
3

Coco Crisp

, OAK
1
1
3

Jacoby Ellsbury

, BOS
1
1
3

Torii Hunter

, DET
1
2

Hisashi Iwakuma

, SEA
1
2

Koji Uehara

, BOS
2
2
Yu Darvish, TEX
1
1

Felix Hernandez

, SEA
1
1

Salvador Perez

, KC
1
1

Shane Victorino

, BOS
1
1
Alden Gonzalez is a reporter for MLB.com. Read his blog, Gonzo and "The Show", and follow him on Twitter @Alden_Gonzalez. This story was not subject to the approval of Major League Baseball or its clubs.