Wieland, Peoria close season strong vs. Surprise
Wieland, Peoria close season strong vs. Surprise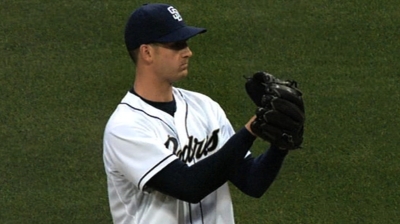 Joe Wieland hadn't thrown a pitch in a competitive game since May 6, 2012, when he threw 5 2/3 innings in the Padres' loss to the Marlins. He went on the disabled list the next day and underwent Tommy John surgery two months later.
Nearly 16 months later, Wieland was finally ready to return to action in the Arizona Fall League. After so much time off, the right-hander was a little nervous when he took the mound for Peoria on Saturday.
"I was joking with one of my buddies, I don't know if I had more adrenaline for my inning Saturday night or for my [Major League] debut," Wieland said. "It was nice to get back out and face some hitters."
Wieland allowed one run on two hits in one inning. Thursday, he made his second appearance of the fall. The Padres' No. 7 prospect gave up one hit in a scoreless inning on the final day of the AFL.
Peoria defeated Surprise, 3-0, at Surprise Stadium. It was the Javelinas' second win in as many days against the Saguaros. The season is over for Peoria, but Surprise won the West Division and will play Mesa, the East Division champions, in the AFL Championship Game on Saturday afternoon.
Though Wieland didn't spend the whole fall with the Javelinas, he said it was good to end the season with back-to-back victories.
"It was a long year for these guys, but they finished the year strong," he said. "It was nice to get out and get a couple of W's."
Peoria took an early lead with three runs off Surprise starter Will Roberts. Center fielder Delino DeShields, ranked No. 73 on MLB.com's Top 100 prospect list, and third baseman Jonathan Meyer both went 2-for-4 to lead the Javelinas' offense.
Wieland was one of five relievers who combined with Peoria starter Matt Heidenreich to hold the league's highest-scoring offense to four hits. Heidenreich struck out six batters in four scoreless innings, lowering his ERA to 2.14 this fall.
For Wieland, however, just getting on the mound this season was more important than the victory. He initially hoped to return to action at the All-Star break, but suffered three setbacks that eventually kept him out the whole season. While he said nothing went wrong with his surgically repaired right elbow, a strained triceps turned into a stress reaction in the bone. That complication was what caused his setbacks.
Though Wieland called his rehab frustrating, he said he always knew he would return to pitching.
"It wasn't anything major that happened," he said. "It wasn't anything we were too concerned with. It was frustrating it happened three different times, but, overall, I'm back now and that's the most important thing. The whole time I wasn't doubting I would ever get back. I put my trust in God."
Wieland said he felt good in both his appearances in the AFL. Coming out of the bullpen was a different experience, but he said all three of his pitches felt fine.
Now, having finally gotten on the mound in 2013, Wieland will be shut down as the offseason begins.
"That was the goal. That was what the guys in the front office, the trainers and I wanted to do," Wieland said. "Get out there a couple times and go 100 percent without feeling anything. If that was the case, shut it down, get ready for next year. That's the plan and we'll start throwing again in January."
Teddy Cahill is a reporter for MLB.com. Follow him on Twitter at @tedcahill. This story was not subject to the approval of Major League Baseball or its clubs.