Rays react to comments by agent Boras
Rays react to comments by agent Boras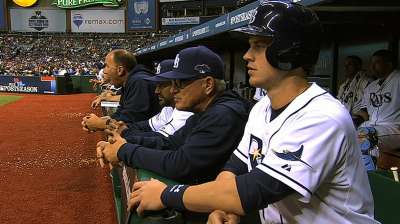 ORLANDO, Fla. -- Though Rays principal owner Stu Sternberg does not see eye to eye with Scott Boras on everything, Sternberg and executive vice president Andrew Friedman were appreciative and understanding upon learning of some praise by the high-profile agent.
Boras in recent comments had criticized the Rays' low attendance while pushing for the team to move. But he commended the Rays' ownership group, led by Sternberg, for putting together a successful team each of the past six years despite working with a payroll that is lower than most other clubs'.
"Certainly the bell's been answered by the organization as far as putting a product on the field that would normally attract fans," Boras said at the General Managers Meetings at the JW Marriott Grande Lakes.
Sternberg dismissed Boras' first point, reaffirming his faith in the Tampa Bay market. But he and Friedman were in agreement with the agent's other remarks.
"I'm glad to hear on this point that our interests are aligned," Friedman said. "Our motivation to increase our revenue is the viability of our sustaining success for the next six years."
In the past, Boras has been critical of the Rays for not spending more on free agents. But he changed his tune slightly Wednesday when speaking to reporters, pointing out that his previous remarks were "probably true of a true grade of ownership that has had the support of the fanbase when winning. They have not."
The Rays drew a Major League-low 1,510,300 fans to Tropicana Field last season, and their pursuit of a new ballpark is an ongoing storyline surrounding the team. They have argued a new stadium would provide more revenue, which would in turn allow them to spend more.
"He wants us, as he should, to be able to pay players more money," Sternberg said. "And if our revenues went up, we would pay players more money.
"But I believe in the market."
Adam Berry is a reporter for MLB.com. Follow him on Twitter at @adamdberry. This story was not subject to the approval of Major League Baseball or its clubs.