Quiet in GM meetings, Rays poised to deal
Quiet in GM meetings, Rays poised to deal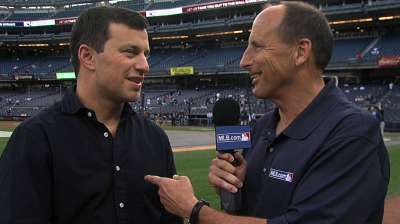 ORLANDO, Fla. -- The Rays did not make any moves or grab many headlines at the General Managers Meetings this week, but executive vice president of baseball operations Andrew Friedman expressed confidence the time he spent at the JW Marriott Grande Lakes would help shape Tampa Bay's offseason plans.
How soon will those plans become clear, and the talk turns into action? That remains to be seen.
"It's been a productive few days; I think we have a lot more clarity right now in terms of what might be more real," Friedman said Wednesday night. "We'll regroup over the next few days and try to set our plan in motion as quickly as we can."
Friedman would not say whether the Rays were closer to a trade or a free-agent signing, noting that it "really could go either way," but he acknowledged he would be "surprised" if nothing happened between by the next time the baseball world convenes in central Florida at December's Winter Meetings.
There is, of course, the question of whether Tampa Bay will trade ace left-hander David Price and what kind of return such a trade would provide. Price has said he expects to be traded, while Friedman has declined to directly address the situation, citing the club's policy not to comment on "what-ifs."
The Rays do not have a great deal of work to do otherwise, as Friedman said Tuesday. They need a first baseman, a second catcher to pair with Jose Lobaton, a reliever or two and maybe some pieces for the bench. They are keeping an eye on their own free agents, including first baseman James Loney and catcher Jose Molina.
Friedman has made it clear the Rays are keeping their options open this offseason, and the club is still in the stage of gathering information. But two reports have already suggested potential replacements for Loney and Molina.
CBSSports.com's Jon Heyman reported Wednesday that the Rays were one of five teams to have checked in on Mets first baseman Ike Davis, a 26-year-old left-handed hitter. Davis struggled in 2013, batting .205/.326/.334 with nine homers and 33 RBIs, but he posted a .252/.336/.461 batting line from 2010-12.
ESPN's Buster Olney posted on Twitter last week that the Rays and Yankees like Reds catcher Ryan Hanigan, who might have become available when Cincinnati signed Brayan Pena to go along with Devin Mesoraco. The 33-year-old Hanigan hit just .198 in 75 games in 2013, but he entered the year with a career .370 on-base percentage and is considered a strong defensive backstop.
Adam Berry is a reporter for MLB.com. Follow him on Twitter at @adamdberry. This story was not subject to the approval of Major League Baseball or its clubs.