Red Sox hedge bets as they pursue Ellsbury
Red Sox hedge bets as they pursue Ellsbury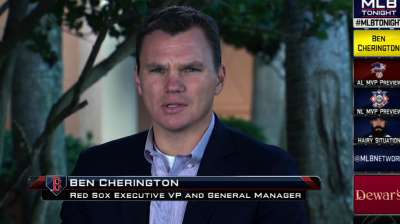 ORLANDO, Fla. -- Red Sox general manager Ben Cherington was speaking in the lobby of the JW Marriott Grande Lakes resort Wednesday afternoon, a few feet away from where agent Scott Boras had been holding court a few minutes earlier. It was an interesting coincidence, because Boras represents outfielder Jacoby Ellsbury, the top free agent Boston would like to keep.
As the annual General Managers Meetings began to wind down, Cherington conceded that the team would start making contingency plans in case Ellsbury were to sign elsewhere, especially because Boras has a reputation for protracted negotiations.
"Whether it's Ellsbury or any of our free agents, I don't think you find a carbon copy where you're exactly replacing the skills," Cherington said. "The challenge then is to try to make the team just as good in other ways. Make it up by being a little better in other areas. So that's what every team is working through. What available options are there out there to make us stronger in as many areas as possible so we can react to things that happen or don't happen?
"The leadoff prototype has on base and speed and a little power all combined," Cherington added. "Guys who have all those things are hard to find. I'm not certain we have one guy who has all those things or who has proven he has all those things at the Major League level. But if we're getting on base at the top of the lineup and doing a good enough job building depth in the lineup, then we'll have a chance to score runs."
Cherington stressed that he still believed it was possible Ellsbury would be back in Boston next season and that he was far from setting deadlines.
"We're not at that point yet; if it does get to that point, we'll communicate that," Cherington said. "We've got to be working on other things at the same time. And we are. [Boras] has got to go through what he needs to go through for his clients, and we get that. There will be time to talk in between. At some point, decisions have to be made, but, again, we're not there yet."
Paul Hagen is a reporter for MLB.com. This story was not subject to the approval of Major League Baseball or its clubs.