Sarah's Take: Dodgers should not deal an outfielder
Sarah's Take: Dodgers should not deal an outfielder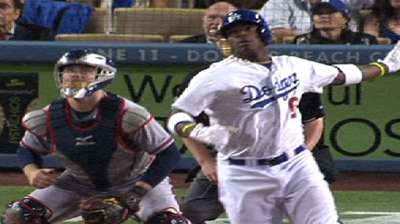 When the General Manager Meetings began Monday in Orlando, Fla., many baseball fans had dreams of grandeur for their favorite teams. The rumors around each team are swirling crazily, and no team can do everything that their fans want.
There typically isn't a lot accomplished during the General Managers Meetings, except laying the groundwork for the Winter Meetings in December. I don't expect many trades or free-agent signings this week, but I do hope the general managers adopt expanded instant replay and outlaw home-plate collisions.
It seems the media and many Dodgers fans think L.A. has too many starting outfielders, so they believe general manager Ned Colletti should trade one. Although it has been less than a month since the Dodgers were knocked out of the playoffs, these people seem to forget that L.A. scrambled to find enough outfielders to start during the season and the National League Championship Series. This contributed to the Dodgers' offensive woes that ultimately cost them a trip to the World Series.
Yes, the Dodgers have four starting-caliber outfielders for three spots. They can't play all of them every day. So what?
Every team experiences injuries, and every outfielder needs to have periodic rest. Since Skip Schumaker is a free agent, the Dodgers have only Scott Van Slyke as a reserve outfielder. While Andre Ethier wasn't 100 percent during the NLCS, Don Mattingly didn't trust Van Slyke enough to substitute him for the ailing Ethier, or for Yasiel Puig when the rookie struggled mightily during the last game of the Dodgers' season. Los Angeles should re-sign Schumaker, but it's doubtful that it will.
Last week, one pundit even suggested Colletti should listen to offers for Puig. At 22, Puig helped to turn around the Dodgers' season when the team promoted him in early June. Sometimes his emotional personality angered the opposition, and his overzealous play sometimes led to mistakes. Angering the opponent occasionally is beneficial to the team's effort, because the opponent concentrates on its feelings instead of winning the game. Every rookie will make mistakes out of his desire to help the team win, and Puig has had less experience playing professional baseball than most rookies.
Despite playing only 104 games in the Majors, Puig had 19 home runs -- the third-most on the team. In September, he struggled, but still had a batting average over .300. With everything magnified during the playoffs, Puig hit .333. By far, he's the most athletic outfielder that the Dodgers have, and he hasn't had a major injury that has sapped his physical skills. The Dodgers must be patient with him while Puig learns the American culture and matures as a player.
Ethier demonstrated in 2013 that he would do anything for his team, and this should take him out of trade consideration. After a slow start -- when Ethier appeared to have forgotten how to hit -- injuries forced Mattingly to ask Ethier to move to center from right field. While he had no experience at the position, without any complaints Ethier agreed to be the new center fielder until Matt Kemp returned from a hamstring injury.
Learning quickly, Ethier became a wonderful center fielder, and many people thought he deserved a Gold Glove Award. His offensive production drastically improved with the position switch. Ethier led the Dodgers in on-base percentage. He was also the healthiest Dodgers outfielder most of the year, even though he developed shin splints during September. This limited Ethier to pinch-hitting during the NL Division Series.
Since Ethier doesn't wow the crowd with amazing speed or monstrous power, the media always want to trade him. However, he provides the Dodgers with fantastic defense, no matter which outfield position he plays. Ethier understands the importance of getting on base regularly. He isn't a selfish player. The Dodgers can do much worse than having a player like Ethier.
Although Carl Crawford came from the Boston Red Sox in the mega trade in August 2012, he can be considered the weak link in the Dodgers outfield. While with Tampa Bay, Crawford was one of the superstars of the American League. After he signed a humongous contract to play for the Red Sox, his production began to decline. Injuries have taken a toll on the 32-year-old outfielder. Having Tommy John elbow surgery in August 2012 has weakened his throwing arm. In June, he had a hamstring pull, and upon his return from the DL, he stopped stealing bases. Crawford's speed was his most valuable asset, and he doesn't have it anymore. It's highly unlikely that the Dodgers can find a trade partner for Crawford.
The Dodgers can't depend on Kemp. Since his monstrous 2011 season, when he deserved the National League MVP Award, injuries have undermined his performance. This offseason, Kemp has had two surgeries, and nobody knows whether he'll be ready for baseball activities at the start of Spring Training. Since he has had four hamstring strains, it appears to be a chronic problem -- not to mention it has diminished his speed. Even when he can play, Kemp will need frequent rests to prevent more injuries.
The Dodgers have bigger problems than having too many outfielders. Although they signed Alexander Guerrero, a Cuban infielder, the Dodgers don't have a second baseman or third baseman. They also need to rebuild the bench and bullpen.
Sarah D. Morris can be reached at sarahmorris27@gmail.com. This story was not subject to the approval of Major League Baseball or its clubs.