Farrell edged by Francona for AL Manager of Year
Farrell edged by Francona for AL Manager of Year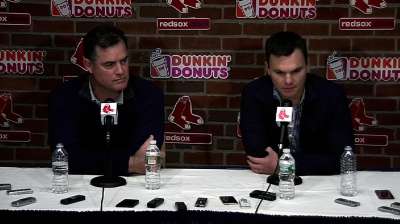 John Farrell guided the Red Sox to an American League East title while changing the mood of a clubhouse that had won only 69 games in 2012. But he couldn't beat out Terry Francona for the AL Manager of the Year Award.
2013 MANAGERS OF THE YEAR
Five points are awarded for each first-place vote, three points are given for each second-place vote and third-place votes are worth one point each.
AL
Manager
Club
1st
2nd
3rd
Points
Terry Francona
CLE
16
10
2
112
John Farrell
BOS
12
10
6
96
Bob Melvin
OAK
2
5
11
36
Joe Girardi
NYY
2
5
11
Joe Maddon
TB
2
3
9
Jim Leyland
DET
1
3
Buck Showalter
BAL
1
1
Ron Washington
TEX
1
1
Ned Yost
KC
1
1
NL
Manager
Club
1st
2nd
3rd
Points
Clint Hurdle
PIT
25
5
140
Don Mattingly
LA
2
17
7
68
Fredi Gonzalez
ATL
3
4
16
43
Mike Matheny
STL
4
7
19
The former Red Sox skipper and first-year Indians manager was awarded the honor during a broadcast on MLB Network on Tuesday night, with Farrell finishing in second place and A's manager Bob Melvin coming in third. Francona led the Indians, who opened the year with the 21st-ranked payroll in baseball at $77.7 million, to a 92-win season just one year after Cleveland lost 94 games.
While Francona won the honor, he expects Farrell's World Series ring will easily trump Francona's Manger of the Year trophy.
"I'm sure John Farrell isn't sitting there thinking, 'Well, I'd trade what I did for that,'" Francona said. "Winning is the ultimate award for your organization."
Francona led the Indians, who opened the year with the 21st-ranked payroll in baseball at $77.7 million, to a 92-win season just one year after Cleveland lost 94 games.
The Indians increased their win total by 24; the Red Sox increased their win total by 28.
Farrell, who worked under Francona as the Red Sox's pitching coach for four years until he became manager of the Blue Jays in 2011, led Boston to 97 wins before making a playoff run that culminated with a World Series championship.
But Boston opened the season with the fourth-ranked payroll at $150.7 million, and the Baseball Writers' Association of America voters might have felt Francona did more with less.
The final tally from 30 BBWAA writers (two representing each Major League city): Francona, 112 points (16 first-place votes); Farrell, 96 points (12 first-place votes); Melvin, 36 points (two first-place votes).
Red Sox general manager Ben Cherington was expecting Farrell to win.
"We were honestly not expecting [me to win Executive of the Year] yesterday, but we're fully expecting the news today," Cherington said. "In my mind, it shouldn't go any other way. He did a terrific job this year. Definitely proud of what he did and the team did. I know I've said it before and I've said it too many times, but to come into a place that had struggled and say you're going to do something and then actually pull it off and do it the way he did it requires a lot of work, and a lot of leadership and a lot of communication and a lot of skill, and that's exactly what he did."
Farrell remains close with Francona and talked to him the day the Red Sox captured the World Series title.
"I've got a chance to feel what [Francona] felt in '04 and '07," Farrell said while standing on the field at Fenway Park immediately after clinching. "He sent me a text earlier today. It was between he and I, but it was special, and knowing that he's out there pulling for you, I know in some way he's sharing in this one, too."
Jason Mastrodonato is a reporter for MLB.com. Follow him on Twitter @jmastrodonato. This story was not subject to the approval of Major League Baseball or its clubs.