Brewers' choice for Huntsville takes Tigers' job
Brewers' choice for Huntsville takes Tigers' job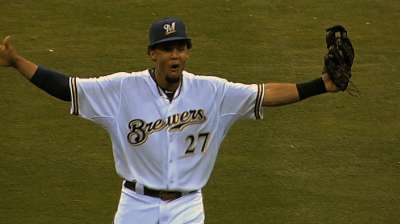 MILWAUKEE -- The manager's seat at Double-A Huntsville was up for grabs again Wednesday when the Brewers' choice for the job, Dave Clark, instead accepted an offer to join new Tigers manager Brad Ausmus' coaching staff.
Clark, who has been on the Astros' coaching staff for the past five seasons, will serve as third base coach and outfield instructor in Detroit.
He had previously been tabbed to manage at Huntsville, a post that opened when the Brewers promoted Darnell Coles to manage Triple-A Nashville in place of Mike Guerrero, who was bumped up to the big league coaching staff. Two baseball sources had confirmed that Clark was the Brewers' pick, but a club official said the hire was not yet official because the perfunctory medical and background checks were still ongoing.
The Brewers will announce their full Minor League staffs at a later date. At the moment, only the Nashville and Class A Wisconsin staffs have been formally set. At Nashville, the staff includes Coles, pitching coach Fred Dabney (third season) and coach Bob Skube (second season).
At Wisconsin, manager Matt Erickson returns for a fourth season with three new coaches: pitching coach Elvin Nina, plus coaches Chuckie Caufield and Ken Dominguez. Dominguez already has six seasons of coaching experience in Milwaukee's Minor League system, and Nina has five. Caufield is a former Brewers farmhand who began his coaching career last summer.
Adam McCalvy is a reporter for MLB.com. Read his blog, Brew Beat, and follow him on Twitter at @AdamMcCalvy. This story was not subject to the approval of Major League Baseball or its clubs.