Sierra, Peguero star in winter league action
Sierra, Peguero star in winter league action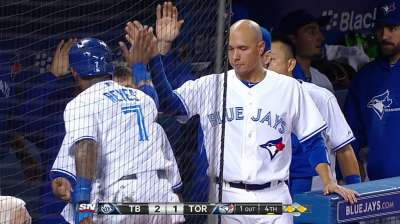 Dominican Winter League
Gigantes 8, Estrellas 3
Moises Sierra went 2-for-5 with an RBI and Carlos Peguero had the biggest hit of the night, belting a three-run home run in the fourth inning. Rudy Owens picked up his first win of the season, allowing just one run on three hits in six innings of work.
Licey 2, Aguilas 1 (10 innings)
Splendid pitching on both sides made this a tight game until Licey scored a go-ahead run in the top of the 10th inning. Rangers shortstop Jurickson Profar led off the inning with a single before an intentional walk and two groundouts scored him from third.
Escogido 4, Toros 3
Getting 10 hits in the game, Escogido was led by Freddy Guzman, who went 3-for-4 with a double and two RBIs. Deibinson Romero also went 2-for-2 with a double. Reliever Oneli Perez got the win, while reliever Adalberto Mendez took his second loss of the season.
Puerto Rican League
Caguas 5, Mayaguez 1
Jorge Padilla led the way for Caguas with a two-run double in the second inning. He also scored two runs. Edgardo Baez also had two hits. John Brownell picked up his first win of the season, allowing just three hits in five innings of work. Meanwhile, Jonathan Albaladejo took his first loss, allowing four runs in three innings.
Santurce-Ponce: Postponed (rain)
Quinn Roberts is a reporter for MLB.com. This story was not subject to the approval of Major League Baseball or its clubs.