Mozeliak, Matheny defend playoff roster decisions
Mozeliak, Matheny defend playoff roster decisions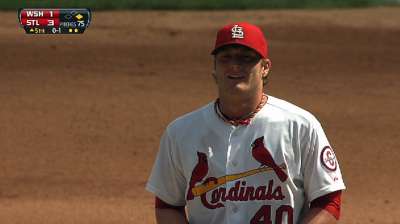 ST. LOUIS -- Having had five days to marinate over the incomplete end to an otherwise special season, both general manager John Mozeliak and manager Mike Matheny were asked on Monday if, given the chance for a do-over, they would have made any changes to their postseason roster composition.
The answer, in short, was no.
Despite taking some heat for carrying two pitchers (Edward Mujica, Shelby Miller ) who were sparsely used and a right-handed bat (Tony Cruz ) that could not be touched because of his insurance as an extra catcher, Mozeliak and Matheny again backed their roster decisions.
"Internally, we never revisited it," Mozeliak said. "When you look at sort of bench replacements, we didn't really have a lot of other options to go with. There could have been an argument to put Sam Freeman on to have that extra left-handed pitcher. But the decisions that were made were made for reasons."
Mujica was kept on the roster largely due to loyalty. The Cardinals were concerned what message would be sent if they cut a player key to their regular-season success because of a poor finish. As for Miller, once Matheny designated him as a long reliever in the bullpen, his role was set. Because the Cardinals never needed someone to cover multiple innings out of the 'pen, Miller was not used after the National League Division Series.
"How do you go about bringing a guy on that you don't even use? We did because we had him there ready almost every game," Matheny said of Miller. "We had him ready either in our minds and were close to going to him early. There were quite a few times that we were one hit away, one way or the other, of needing somebody to go long. He was right there. Same thing goes for Edward -- we get into a spot where we need somebody to soak up some more innings, he's there, and he was our best option. There's no other way to really think about it."
As for the makeup of the bench, the only way the Cardinals could have utilized Cruz off the bench would have been if they had carried Rob Johnson as a third catcher.
"In the Cruz case, I'm sure you could make an argument in one of those [World Series] games here that maybe that might have been an opportunity to pinch-hit," Mozeliak said. "But in the end, I don't know if it changes the outcome drastically or not. It's something that you try to eliminate all those thoughts when you put that roster together. You try to go through all those scenarios that could come up. Unfortunately, for two series it worked well and for one it didn't."
Jenifer Langosch is a reporter for MLB.com. Read her blog, By Gosh, It's Langosch, and follow her on Twitter @LangoschMLB. This story was not subject to the approval of Major League Baseball or its clubs.