Series even as Cards give up big homer, miss chances
Series even as Cards give up big homer, miss chances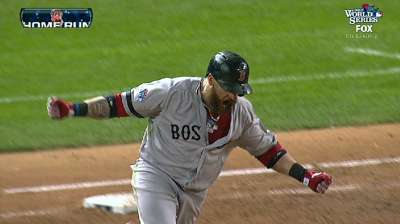 ST. LOUIS -- The Cardinals' opportunity to take a commanding World Series lead over the Red Sox evaporated with one poorly located sinker from Seth Maness and one mighty sixth-inning swing by Jonny Gomes.
Gomes' tiebreaking three-run homer sunk the Cardinals in a 4-2 loss Sunday night that ensures a return trip to Boston. It knots the Fall Classic at 2-2, essentially creating a best-of-three Series that will include only one more home game for the Cards. That comes Monday (6:30 p.m. CT air time on FOX, 7:07 first pitch), when ace Adam Wainwright seeks to redeem himself after opening the Fall Classic with an uncharacteristic performance.
"Adam is always on a mission, and that's what makes him great," David Freese said. "I guess they have [Jon] Lester going, so here we go again."
The Cardinals had hoped Wainwright would be pitching a potential clincher, but missed opportunities loomed largely in the Cards' inability to ride any leftover momentum from an obstruction-aided walk-off win in Game 3. This game ended in unusual fashion, too, with pinch-runner Kolten Wong picked off first base while Carlos Beltran -- the potential tying run and the team's best October hitter -- stood at the plate.
It was the conclusion to a night that left manager Mike Matheny answering questions about his bullpen management and players speaking about how a lack of execution spoiled their chance to move a win closer to the franchise's 12th World Series championship.
"It's going to be tough, but you have to have short-term amnesia," Maness said, confusing his clichés a bit. "Come back at them tomorrow."
A Busch Stadium-record crowd of 47,469 watched Game 4 unravel for the Cardinals in the middle innings once the Red Sox started to pester starter Lance Lynn. The tying run scored in the fifth, which David Ortiz opened with a double. Lynn created his own trouble by loading the bases with a pair of walks; Stephen Drew followed with a sacrifice fly.
The 29-pitch inning followed four frames in which Lynn threw 50 pitches and faced the minimum 12 batters. The only hit allowed was one off his foot by Ortiz, and Lynn quickly answered with a double play.
"Bases loaded with no outs and they only get one," Lynn said. "That was pretty huge."
Lynn would rebound to retire the first two batters of the sixth before Dustin Pedroia dropped a single into left-center. That brought Matheny to the first of two key decisions he would have to make that inning. He had lefty specialist Randy Choate available in the bullpen, though the numbers did not make that the obvious move.
In 10 career at-bats against Choate, Ortiz had four hits. Ortiz had also singled off Choate the night before. Matheny did not like the matchup.
"He was ready," Matheny said. "We just weren't going there."
Matheny stuck with Lynn, who clearly had no interest in letting Ortiz hurt him. The Boston cleanup hitter walked on four pitches.
"I'm not one to be dumb," Lynn said. "I'm not going to let that guy beat me in that situation. That's just the way it is. I'm not going to let him hit a two-run homer right there."
Matheny's next call was how to proceed against Gomes, who was in the lineup only because Shane Victorino had been scratched less than two hours before first pitch due to back tightness. Rather than give Lynn the chance to close the inning, Matheny summoned Maness. Lynn left the field visibly frustrated by the decision.
"I'm not happy coming out of a game. Ever," Lynn said. "That's just part of being a competitor. If you want out of a game, you shouldn't be out there, ever. That's just my opinion."
"We got into a spot, we had to make a decision," Matheny explained afterward. "And we take everything into consideration in trying to figure out a way to keep the game where it was at that point. ... This is a guy [Maness] that we go to to get us out of tough spots whenever we're in question. And he's been very good."
This time, Maness stumbled. The rookie righty fell behind Gomes and eventually left a 2-2 sinker over the plate for the outfielder to send over the left-field wall. It was Gomes' first home run of the postseason.
Maness, who was quite adept at wiggling the Cardinals out of jams during the season, has allowed six of 11 inherited runners to score in October. It was just the third home run hit by a right-handed batter off Maness this season.
"I left the ball up -- I looked at it -- right down the middle," Maness said. "Sometimes you get away with those. I had a lot of those [in the regular season] where you miss up, and he might pop it up or somebody swings through it. But a good hitter, more times than not, you're not going to get away with that."
The Cards never recovered in their comeback attempt, and Lynn shouldered his second loss of the postseason on a night when he became the club's all-time leader in postseason appearances, with 20.
Facing an opposing starter who was clearly compromised by shoulder issues, the Cardinals could not do much to provide Lynn an early cushion. With a fastball sitting in the upper 80s, Clay Buchholz still limited St. Louis to one unearned run in four innings before being removed for a pinch-hitter.
"[There was] a lot of scrutiny around his situation," Red Sox manager John Farrell said. "But given that he might not have had his midseason stuff ... he gave us everything he could."
That lone run scored in the third, when Matt Carpenter aggressively took second as Jacoby Ellsbury fumbled the ball on a single. Beltran drove him home with his 14th RBI of the postseason. Beltran's single improved him to 8-for-10 with 12 RBIs with runners in scoring position in October.
Sandwiched around that productive inning, though, were those in which the Cards left a pair of runners on base.
"He showed that he absolutely knows how to pitch when his speed isn't there," Freese said of Buchholz. "Obviously, [the velocity] was down a little bit on the charts. But the guy can flat-out pitch. He knew he didn't have his velocity, but he hit his spots."
The Cardinals did not have much more success against the Boston bullpen, which sent out a string of five pitchers to cover the final five frames. That included Game 2 starter and Game 6 probable John Lackey, who retired Jon Jay and Freese with Yadier Molina on third to end the eighth.
St. Louis, which hadn't previously lost a postseason game this month when scoring first, finished 2-for-8 with runners in scoring position.
"We want to come through in those situations, no doubt about that," Beltran said. "But at the same time, they're getting us out. There's nothing we can do. We're putting an effort. We're trying to have a good productive at-bat in those types of situations. Sometimes we've been able to come through, sometimes we haven't."
The Cardinals did close the deficit in the seventh while also missing their best late-inning chance to flip the game back into their favor. Pinch-hitter Shane Robinson doubled and scored on Carpenter's single to bring the Cards to within two. Beltran followed with a walk against struggling reliever Craig Breslow.
Farrell turned to Junichi Tazawa to face Matt Holliday, who had lined a two-run double off Tazawa in the Cardinals' Game 3 win. This time, the battle was won by Tazawa, who induced an inning-ending groundout to strand two.
The Cards' final chance to piece together a rally then abruptly flopped in the ninth. Having entered after Allen Craig delivered a pinch-hit single, Wong slipped while trying to retreat to first as Red Sox closer Koji Uehara threw over. Wong was tagged out to end the game.
Afterward, the rookie infielder stood in front of his locker, nearly in tears, while peppered with questions about what he called the toughest moment of his career.
"You've just got to go forward," Wong said.
Such was a shared sentiment in the Cardinals' clubhouse by the end of the night.
Jenifer Langosch is a reporter for MLB.com. Read her blog, By Gosh, It's Langosch, and follow her on Twitter @LangoschMLB. This story was not subject to the approval of Major League Baseball or its clubs.