Red Sox come to grips with obstruction call
Red Sox come to grips with obstruction call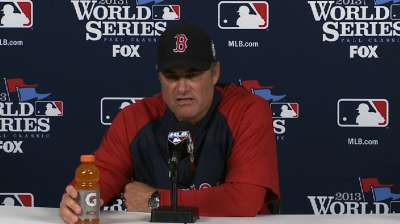 ST. LOUIS -- By Sunday afternoon, you'd never know the Red Sox experienced a stunning loss the night before.
As beat writers huddled in manager John Farrell's office, "Started From The Bottom" by Drake, which has developed into the battle cry of this year's team, was blaring from the clubhouse.
Moments after the game, there was disbelief, and plenty of gripes from players -- Jake Peavy most outspoken among them -- that the umpires were mistaken in calling obstruction on Will Middlebrooks, which allowed Allen Craig to score the winning run.
However, a day later, with time to process it, the call was clearly the right one, even if Middlebrooks didn't intentionally obstruct Craig.
"The call was accurate," Farrell said. "The Type B portion of the rule, I think there needs to have some area in that for intent. Because on that play last night, there's no way Will can get out of the way. It's more the rule that I have some issue with, not the call itself.
"They made the call as the rule suggests and calls for. To say that there can't be some room for intent there, Will wasn't trying to hold the guy down. That's where I think -- not just because we lost a World Series game based on the call -- it needs to be looked at. If you look at it, it gives the opportunity to be the aggressor and take advantage of it."
Ace Jon Lester, who is lined up for Game 5, didn't feel any carryover from Saturday night when he arrived in the clubhouse on Sunday.
"I think today everyone was fine," Lester said. "I think last night, that's not how you want to end a World Series game. I think some guys were probably shocked, confused, a lot of different emotions going on. But there's nothing we can do to change it.
"So we have to move forward to today and focus on today. And if we let that affect us in the clubhouse today and during that game, then we've already been beat. We can't do that. We need to move on and go out there and play a good baseball game tonight."
Ian Browne is a reporter for MLB.com. Read his blog, Brownie Points, and follow him on Twitter @IanMBrowne. This story was not subject to the approval of Major League Baseball or its clubs.