Kelly on his toes against Boston baserunners
Kelly on his toes against Boston baserunners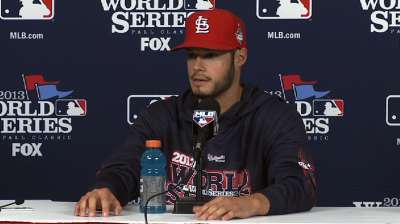 ST. LOUIS -- One of the most intriguing matchups coming into this World Series was Yadier Molina vs. the Red Sox's baserunners. How aggressive would Boston be trying to swipe bases off baseball's best catcher?
Through two games it has been advantage Molina, as the Red Sox have not yet tested his arm. Molina's reputation and game situations have played a role in Boston's hesitancy to gamble. Credit, though, should also go to starters Adam Wainwright and Michael Wacha, whose quickness to the plate and variance in delivery time closed the door on potential basestealing opportunities.
"It comes down to our guys and how they're holding runners," manager Mike Matheny said. "Not that I am, as a [former] catcher, forcing it down their throat, but I just hate giving them extra bases. There are people that are going to fight that and sabermetricians will say it's a low-percentage move and this and that, but I've seen it hurt us too many times. … If you can quicken it up, why wouldn't you?"
It is a topic addressed on Day 1 of Spring Training, Matheny said, and something that has been re-emphasized to Joe Kelly in advance of his Game 3 start. Kelly can be caught unaware of baserunners and can be slow to the plate during his delivery. If he is on Saturday, the Red Sox will be ready to pounce.
Kelly admitted as much before his start when he was asked about Molina's impact.
"To have a guy like that, he shuts down the running game," Kelly said. "Sometimes if I want to be a little slow around the plate, and also he notices if I'm being slow, he'll tell me, 'Hey, man, give me a chance. These guys might steal on you. You're a little slow to the plate. Try to speed it up.'"
Matheny said he has seen Kelly improve in this area, but Saturday could be as tough a test as he has had this season. The Red Sox ranked third in the American League with 123 stolen bases and tops with a success percentage of 89. Molina threw out 44 percent of attempted basestealers during the regular season.
"Joe has to be a little more conscious," Matheny said. "It's something they'll try to take advantage of. He's got to be sharp. And if he does get lazy and does get complacent that Yadi will take care of everything, it doesn't matter how good Yadi is, he's not going to be able to do it."
Jenifer Langosch is a reporter for MLB.com. Read her blog, By Gosh, It's Langosch, and follow her on Twitter @LangoschMLB. This story was not subject to the approval of Major League Baseball or its clubs.