Scouting Showcase delivers unique opportunity
Scouting Showcase delivers unique opportunity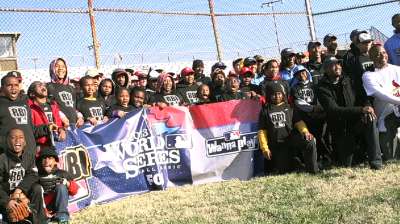 ST. LOUIS -- Seven miles from where Game 3 of the World Series was about to be played Saturday night, Dan Dixon, an area scout in Southern California for the Major League Scouting Bureau, stood out in left field on the Cool Papa Bell Baseball Field at the Mathews-Dickey Boys & Girls Club. Dixon began speaking to 35 hopeful boys and young men, each of whom had visions of grandeur.
They want to be Major League Baseball players.
He just wanted to be able to write at least one scouting report on a kid worth tracking.
"You're going to get a chance to show us what you can do," Dixon told them, standing next to a handful of area scouts who held timing devices and clipboards. "We're grading you guys against Major League standards, so keep that in mind. They average a 6.9 60."
So began the first-ever Reviving Baseball in Inner Cities (RBI) Scouting Showcase, drawing aspiring talent locally and from across the RBI program. Depending on their positions, prospects ran the 60-yard dash, took 45 minutes of batting practice, took infield, including slow rollers, tested their arm strength and accuracy in the outfield, and measured their velocity on the mound.
"We really had some discussion internally about what sort of opportunities we could provide to the higher-end RBI players to pursue a college scholarship or maybe even chase the dream of being a professional player," said David James, MLB's RBI executive director. "Through the efforts of the Commissioner's Diversity Task Force, we thought that our biggest stage, the World Series, would be a great opportunity to get some of these RBI kids in front of the Scouting Bureau, potentially other colleges, and see what they are able to do."
That Showcase immediately followed a "Wanna Play?" youth clinic that drew local and regional participants, with former Cardinals Kerry Robinson and Cliff Politte among those teaching skills. MLB Network analyst Harold Reynolds, MLB vice president of community affairs Tom Brasuell and Sharon Robinson, daughter of Jackie Robinson, were among those who spoke to participants in the morning. Baseball's reach on this morning went far beyond the walls of Busch Stadium.
The back-to-back event over four hours at 54-year-old Mathews-Dickey, near an underserved section of St. Louis, was part of MLB's fifth annual World Series community initiative program for Games 1-4, each game dedicated to different themes for a lasting legacy.
As the backdrop to Game 3, MLB highlighted its commitment to youth from underserved communities through events involving RBI, the importance of education through the Breaking Barriers program, and celebrating community service through the Busch Stadium pregame presentation of the prestigious Robert Clemente Award presented by Chevrolet.
Game 4 on Sunday will look to inspire fans worldwide to join MLB and Stand Up To Cancer (SU2C) in advancing the fight against cancer. In Boston, Game 1 was dedicated to Welcome Back Veterans and Game 2 focused on two long-time MLB charitable partners in Boys & Girls Clubs and Habitat for Humanity, as well as the Baseball Tomorrow Fund.
"I know a lot of this is PR, but we're hoping to find a ballplayer out here," Dixon said. "We've got some notes on some of these kids, there are supposed to be some good runners, and if we can get a good arm, hopefully we can write a report on one of these kids in this area.
"We're looking for velocity, we're looking for competitors, growth projection, we want to see guys who can just make it look easy. We're hoping there could be a hitter out here. ... Weather cooperated, and then we get to stick around and go to the World Series game tonight, so that's a perk for us."
Dixon said he hopes it will grow into a larger annual World Series event.
"We're trying to give these kids an opportunity to get them off the street and give them an opportunity to play baseball," Dixon said. "They can go play other sports, but we're introducing baseball to them, and hopefully these kids can come out and give it a shot. Some of these kids, all of a sudden they're going to like it, then they'll stick around and play in the high-school programs, go off to college, and, with any luck, some of them will make it to the pro ranks."
One such hopeful is Sadiq Burkholder, 19, a left-hander from Williamsport, Pa. He has played the last five years with the Harrisburg RBI program, leading his team to the RBI World Series title this year, and MLB flew him here to give scouts a look at his talent.
"It's an amazing feeling," he said. "Being out here in front of the scouts, going to the Gala last night and seeing all the big representatives of MLB, and being flown out here and staying at a great hotel, being driven around by VIP services, it's an amazing experience"
Reynolds told the "Wanna Play?" kids that there are millions of ballplayers in America, and a difference maker is the character of a person. He told them to choose friends wisely and work on their grades, to make scouts and coaches take notice.
"Don't stop your opportunity before you even get out the door," he said.
Once the site of a city trash dump, the first site of the RBI Scouting Showcase was tied to some authentic baseball history. James "Cool Papa Bell," the Negro Leagues legend and Hall of Famer, was a good friend of Martin L. Mathews, co-founder of this Boys & Girls Club. The kids were made aware of Bell's legacy.
"He served some time with the organization in helping things out and giving good advice to children," Tom Sullivan, vice president of Mathews-Dickey, said of Bell. "It was a good fit for us to name the stadium after Cool Papa Bell. He lived three miles from here when he was alive, and we continued his legacy."
Mark Newman is enterprise editor of MLB.com. Read and join other baseball fans on his MLB.com community blog. This story was not subject to the approval of Major League Baseball or its clubs.