Obstructed view: Call sends Sox to walk-off loss
Obstructed view: Call sends Sox to walk-off loss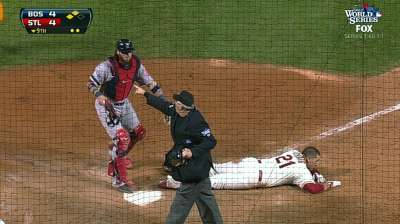 ST. LOUIS -- It was all so jarring for the Red Sox, the way a terrific Game 3 of the World Series came to such an abrupt and unpredictable conclusion, not to mention a 5-4 loss.
Dustin Pedroia looked like he had just saved the game for Boston and set his team up for the chance at extra innings when, playing on the infield grass with runners on second and third and one out in a tie game, he made a diving stop on a grounder by the Cardinals' Jon Jay and fired home, where Yadier Molina was tagged out by Jarrod Saltalamacchia.
As Saltalamacchia is trained to do, he immediately surveyed the field after making the out and saw Allen Craig racing toward third. Saltalamacchia fired the ball to third, and that was when the wheels were set in motion for the zany finish. The throw wasn't a good one, and as it skipped away, third baseman Will Middlebrooks became tangled up with Craig.
Craig got out of the tangle and sprinted home, where it appeared he was going to be called out at home on a good throw by Daniel Nava. However, third-base umpire Jim Joyce called obstruction on Middlebrooks and the game was over.
"I've never seen a play like that, and hopefully I never will [again]," said Nava.
Just like that, the Red Sox found themselves trailing the World Series 2-1, after taking Game 1 in blowout fashion.
A lot of things happened in Game 3, but it was ultimately decided on the obstruction call.
According to rule 7.06, when obstruction occurs, an umpire should call or signal obstruction.
"If a play is being made on the obstructed runner, or if the batter-runner is obstructed before he touches first base, the ball is dead and all runners shall advance, without liability to be put out, to the bases they would have reached, in the umpire's judgment, if there had been no obstruction," states the rulebook. "The obstructed runner shall be awarded at least one base beyond the base he had last legally touched before the obstruction. Any preceding runners, forced to advance by the award of bases as the penalty for obstruction, shall advance without liability to be put out."
"I had to dive for that ball," said Middlebrooks. "I was pretty inside the baseline, as we could all see. I dive for the ball there. There's really nowhere for me to go. I go to get up. He's on top of me. There's really nowhere for me to go there. I don't know. That's a tough one. I was going to push myself up. They said it doesn't matter. He ran into me. I still haven't processed it all. I don't know. I don't agree with it."
Rule 2.00 also offers up an explanation of the play involving Middlebrooks.
"If a fielder is about to receive a thrown ball and if the ball is in flight directly toward and near enough to the fielder so he must occupy his position to receive the ball he may be considered 'in the act of fielding a ball,'" says the rulebook. "It is entirely up to the judgment of the umpire as to whether a fielder is in the act of fielding a ball. After a fielder has made an attempt to field a ball and missed, he can no longer be in the 'act of fielding' the ball. For example: an infielder dives at a ground ball and the ball passes him and he continues to lie on the ground and delays the progress of the runner, he very likely has obstructed the runner."
It just seemed as if the perfect storm occurred for the play to unfold the way it did.
"Tough way to have a game end, particularly of this significance, when Will is trying to dive inside to stop the throw," said manager John Farrell. "I don't know how he gets out of the way when he's lying on the ground. And when Craig trips over him, I guess by the letter of the rule, you could say it's obstruction. Like I said, that's a tough pill to swallow."
In the top of the ninth, there was a moment ripe for second-guessing when manager Farrell allowed reliever Brandon Workman to hit with one out and the bases empty with the dangerous Mike Napoli still available. That move became even more curious when Farrell removed Workman after facing just two batters in the bottom of the ninth, the latter of which resulted in a one-out single to right by Molina that started the winning rally.
"In hindsight, I probably should have double-switched after Salty made the final out the previous inning, with Workman coming in the game," Farrell said. "I felt like if we get into an extended situation, which that game was looking like it was going to held Nap back in the event that spot came up again. Like I said, in hindsight, having Workman hit against [Cards closer Trevor] Rosenthal is a mismatch. I recognize it, but we needed more than one inning out of Workman."
After the single by Molina, closer Koji Uehara came on for Boston. Craig ripped a double to left, putting runners on second and third with one out.
Then came the hard grounder that Pedroia snared, only to have all the chaos ensue after that.
"That's the way it goes," Saltalamacchia said. "That's part of the game. It's not going it going to be handed to us. This is a good team. They play the game fundamentally right."
The Cardinals weren't going to apologize for the way they won.
"That's an unfortunate way for them to lose the game, but if it was the right call, then it's got to be made," Matt Carpenter said. "Again, you can't say enough about what we were able to do against their closer. So you've got to give us a little credit, too."
Joyce and crew chief John Hirschbeck explained the ruling.
"Well, when the play developed after Saltalamacchia threw the ball at third base, after the ball had gone straight through, and Allen had slid into third and stood up to attempt to go to home plate, everything was off right there," said Joyce. "And when [Craig] tried to advance to home plate, the feet were up in the air, and he tripped over Middlebrooks right there, and immediately and instinctually, I called obstruction.
"Our determination is whether or not he could have scored or not. ... And as soon as Craig slid into home plate, [home-plate umpire] Dana [DeMuth] immediately pointed down at me knowing that we had obstruction and it impeded Allen to score the run, essentially. Dana did a great job on installing that right away. Dana did a great job signaling that right away."
Before the controversial end, this one was a compelling cliffhanger with several swings in momentum.
The Red Sox trailed, 4-2, with just six outs left. But Jacoby Ellsbury jump-started an eighth-inning rally with a leadoff single against righty Carlos Martinez. Shane Victorino was plunked on a curveball, marking the seventh time he's been hit by a pitch in this postseason.
After Pedroia worked the count to 3-2, Farrell put the runners in motion. That wound up being big, as Pedroia hit a grounder to short and the runners moved to second and third with one out.
The dangerous David Ortiz was walked intentionally to load the bases and on came Rosenthal. Nava hit a grounder to second, and Carpenter could only get the force at second, as a run scored to make it a 4-3 game.
Up stepped 21-year-old Xander Bogaerts, and he was again unfazed with the game on the line, hitting a tapper that took a big bounce behind the second-base bag and off the glove of shortstop Pete Kozma for an infield single that tied the game.
"They find a way to scrap and get on base and make things happen," Saltalamacchia said. "And so do we. We were tied 4-4 right there. That's just the way the game goes. It can turn at any point."
The Cards had snapped a tie in the bottom of the seventh against Boston's setup tandem of Craig Breslow and Junichi Tazawa. Breslow, who also struggled in Game 2, started the frame by giving up an infield hit, a roller to short by Carpenter. Breslow then hit Carlos Beltran.
On came Tazawa in a tough situation, and Matt Holliday belted his third pitch down the line in left for a two-run double that gave the Cardinals a 4-2 lead.
Game 3 was a tense contest that had turned into a battle of the bullpens by the sixth inning.
Down, 2-1, with four innings left, the Sox rallied in the top of the sixth. Nava ripped one into left for a game-tying RBI single. It was a strong way for Nava, who didn't start the first two games, to mark his return to the mix.
"Just trying to see pitches and get myself comfortable," said Nava. "I'm glad it worked out. I hadn't seen real pitching in a while, so I was just praying things turned out well and they turned out pretty good. "
After starter Jake Peavy (four innings, six hits, two earned runs) exited for a pinch-hitter, Felix Doubront did a nice job keeping Boston in the game with two shutout innings.
"When you watch how hard these teams are playing in the World Series and what it takes to get here, what it takes to do what we did climbing back, it's just amazing to me that it would end on a call like that that's not black and white," Peavy said. "I just don't know what else to say."
The Red Sox will try to rebound on Sunday.
"This game's not going to define our team, by any means," said Pedroia. "We lost a tough game. We'll come out and play tomorrow. This won't stop us."
Ian Browne is a reporter for MLB.com. Read his blog, Brownie Points, and follow him on Twitter @IanMBrowne. This story was not subject to the approval of Major League Baseball or its clubs.